Amazing Dahlia ideas for your garden : cultivation and care tips
Growing and caring for dahlias is a topic of interest to many gardeners, as these lush flowers are often the inhabitants of household plots. Due to their beauty, dahlias are often inhabitants of personal plots. Almost no gardens can do without fragrant and majestic dahlias.
Varieties of Dahlias
Dahlia, belongs to the family of asters. Dahlia flowers got their Latin name on behalf of the Swedish botanist Anders Dahl.
Dahlias compete with roses in their beauty and brightness
We all know the dahlia – the result of a long and hard work of breeders. Using the method of crossing and selection, the scientists turned wild mountain flowers growing in Mexico and Chile into a garden species.
Currently, there are about 15,000 varieties of dahlias in different colors and shapes.
Some varieties of dahlia are striking in their unusual color.
The world has adopted a classification according to which the entire diversity of distances is summed up under 11 groups.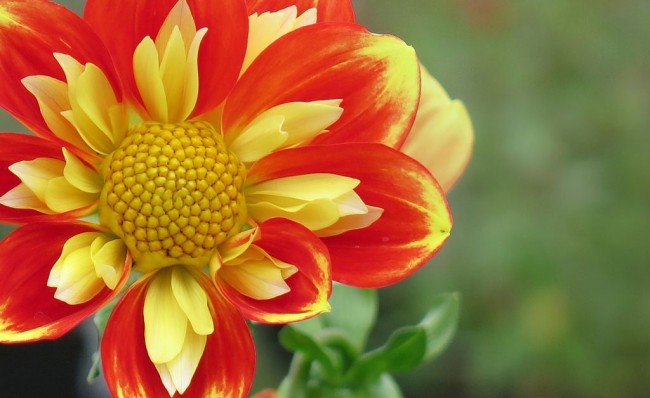 Planting dahlias
Planting and caring for dahlias depends on the purpose of the cultivation (ornamental plantings or reproduction) and the region. We provide recommendations for planting dahlias in the garden.
Magnificent Glade Dahlia
Site selection
In order to provide dahlias with good conditions for growth and flowering, it is necessary to take into account a number of requirements when choosing a place:
Calm Dahlias can't stand the draft. Whatever the wind, it will not bring benefits: the north (especially at low temperatures) promotes frostbite of leaves, and the dry south burns them.
Dahlias can't stand a draft
Advice! Surround the dahlias with trees or plant them outside the fence. However, keep in mind that the shadow from the crowns should not fall on the flowers, otherwise viable tubers cannot be obtained!
Dahlias need moderate lighting
Flat terrain. In the hollows, dahlias do not grow well due to the cold and humidity settling there. In the south, flowers can be planted on the northwest slope, and in the middle lane – on the southeast.
With a close location of groundwater (60-70 cm), the flower bed for dahlias is raised. In the southern regions, on the contrary, they make a depression, which is filled with water at night.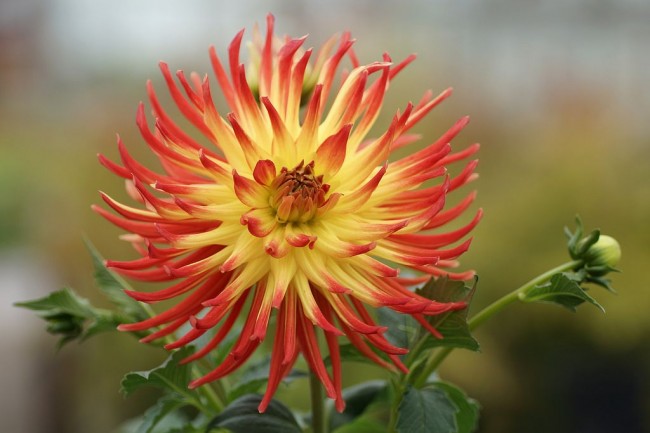 Beautiful bright orange dahlias.
The soil before planting is fertilized with organic matter (manure, compost, humus). Peat and clay are added to dry sandy soils, and sand, gravel and ash are added to heavy clay soils.
Dahlias tolerate acidic soil, but grow better in neutral. Liming will help reduce acid levels.
Among the luxurious assortment of dahlias, you can find amazing specimens of the most incredible shapes and colors.
The planting procedure is carried out in the spring. They dig a hole, focusing on the size of the tuber and taking into account the amount of fertilizer added (manure, compost, etc.). When placing a seedling in a hole, make sure that the root neck rises above the ground.
To accelerate flowering, dahlia tubers are pre-germinated, kept under sawdust in polyethylene and constantly sprayed with water.
Planting dahlias
Advice! In order not to further injure the rhizome, equip the stalk supports during planting.
Breeding
Reproduction of dahlias is carried out vegetatively and by seed. Another popular way is to divide the tubers.
Dahlia tubers
Dwarf varieties are usually propagated by seeds. Sow the seeds in a box. In the cotyledon state, they dive into pots or nutrient cubes and keep them in the greenhouse. Seedlings are planted at a distance of 30-35 cm from each other.
When grafting, dahlia tubers in February are placed in a greenhouse or a bright room, laid out and 2/3 covered with a mixture of land with peat, sand and humus. The temperature of the first 2 weeks should be 20-25 ° C. Then – 16-18 ° C. Water the tubers with a solution of potassium permanganate.
With proper care, dahlias bloom for a very long time.
Three weeks later, cuttings with a pair of leaves are cut off, leaving a couple of millimeters of trunk for seedling of new shoots. You need to try to cut the cuttings with a piece of the root neck, so that they are more likely to take root. For the same purpose, they are treated with a weak solution of heteroauxin (0.1 g per 10 l of water).
It is best to plant knitted cuttings in perlite to a depth of about 2 cm, retreating 5 cm between rows and 3 cm between branches. Keep them in drawers or shelves at a temperature of 20-25 ° C under the film. After 10 days, when the leaves begin to shine, the film is removed. Watering and spraying cuttings need daily. Over time, the temperature is reduced to 16-18 ° C. Rooted cuttings are planted in May.
Fairy Glade Dahlia
Before dividing the tubers in early March, they remove it from the storehouse, clean it of dried up elements, sprinkle the damaged places with powdered coal and place them in boxes on previously moistened sand. Then they are covered with sawdust and moisturized regularly.
After a couple of weeks, when the length of the shoots is 1-2 cm, the tubers are removed and the division begins. They act in this way: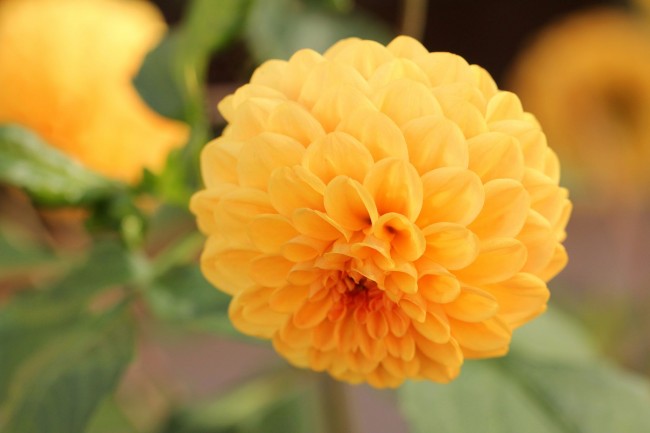 Dahlias – very beautiful and unpretentious flowers
Cut the old stalk almost to the very neck
The tuber is cut into 4-6 parts with one or two sprouts;
Sprinkle places of cuts with coal
Dahlias are very popular among gardeners.
Planted in boxes with partitions, which when moving the tuber into the ground will allow to get it together with an earthen lump. Garden soil with sand (4/1) is used as soil.
Tubers are dug up to the sprouts, watered and taken out to the greenhouse.