Design of a one-room apartment – 30 interesting ideas for organizing a stylish space
What can better tell about the character of its owner than its own apartment? If love and attention are invested in its design, such a home will always delight its owner, creating a wonderful mood for him every day. The space of a one-room apartment may limit some of the desires of its owner, but in general, these boundaries do not apply to the design of its interior. To make the layout ergonomic, consider some design ideas for such an apartment.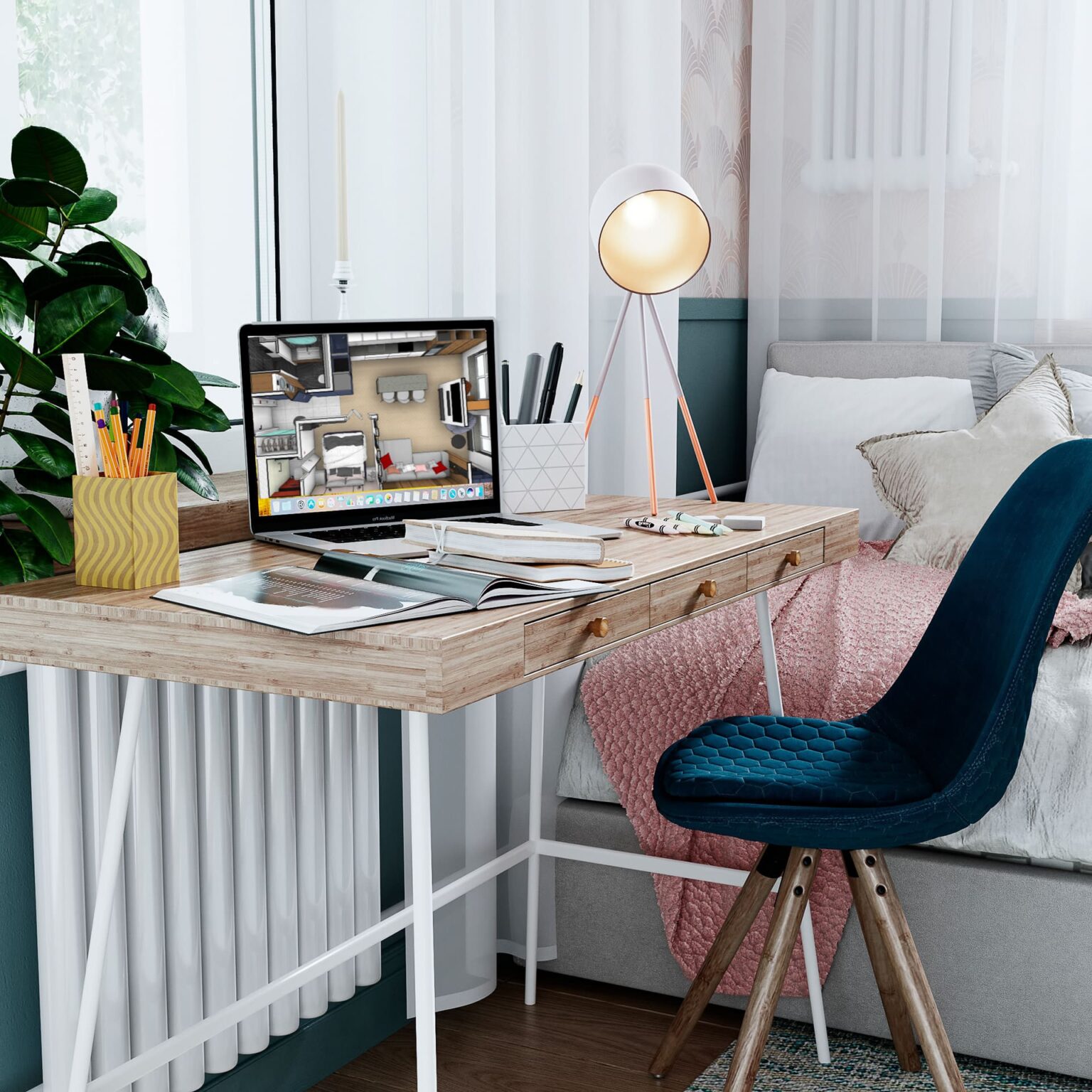 In the design of the living room, upholstered furniture of warm colors is welcome, which will harmoniously fit into the future interior of a one-room apartment. It is better to purchase an armchair and sofa with the same upholstery and texture as the sofa. A low glass coffee table, open sections, and racks in the form of a wall, wall shelves with an original design will look appropriate.
Most often, the minimalism style is chosen for the interior decoration of a one-room apartment. The presented style contains all kinds of geometric shapes (parallelograms, rectangles) and is formed exclusively in a certain structure. If possible, all equipment is installed in furniture. Transformed furniture will be more convenient to use.
Things that are used in decorating a one-room apartment should be used in small quantities. For example, take a vase or some kind of sculpture, but choose one thing.
Advice: Use mirrors to visually expand the living room. Their number can be unlimited. Particular attention is paid to the lighting in the room. Do not cover the windows with thick curtains, it is better to give preference to ordinary tulle.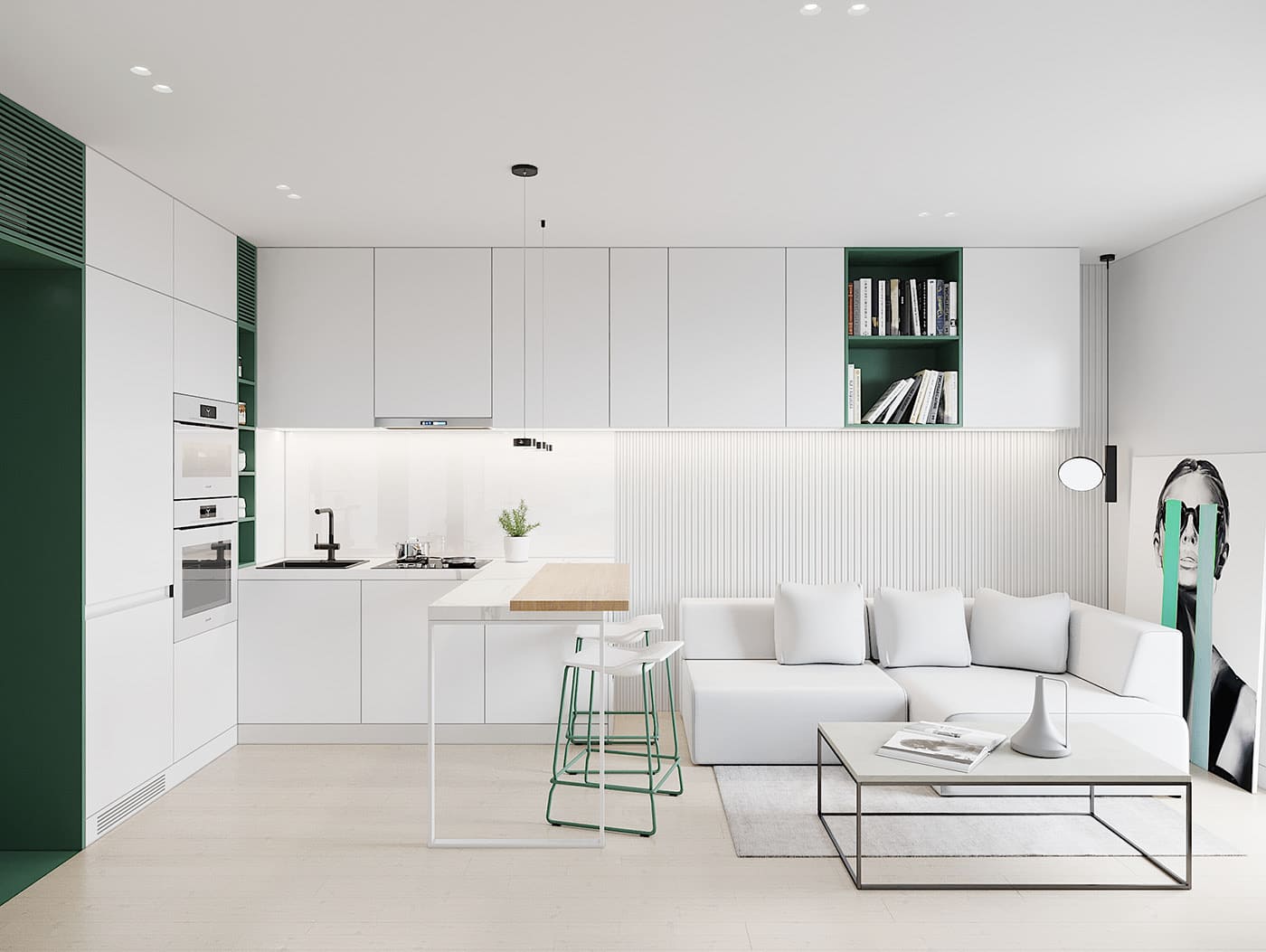 For those who like to place souvenirs on the shelves and leave behind a mountain of unwashed dishes, the minimalism style will not work. If your home is like a studio apartment, where the dining area of ​​the room does not attract much attention, then a kitchen that can accommodate a huge amount of built-in equipment will be the right solution.
The modern interior design of a one-room apartment does not accept the use of any small items in the kitchen. Use color approaches and different surfaces to nicely divide the room into zones. To do this, you are provided with an immense assortment of materials – wood, stones, glass, plastic, brick, gypsum tiles, aluminum profiles.
Kitchen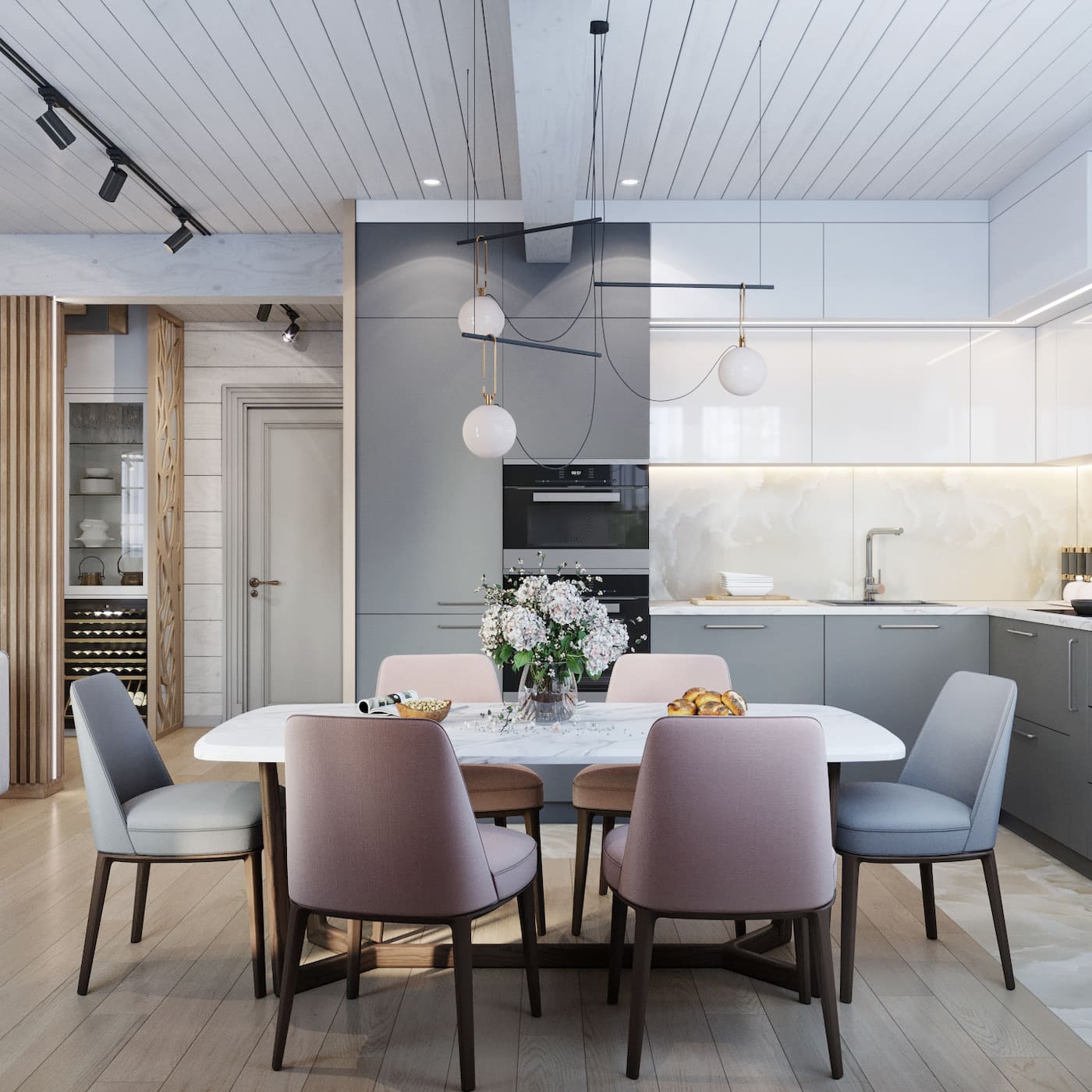 In turn, you can use surface lighting. Divide the kitchen area into three parts: for cooking and storing food (the so-called work area); refectory, which can only contain a dining table or a built-in counter instead; an area that facilitates free movement around the kitchen.
All kinds of patterns and unnecessary decorative elements are not suitable for a minimalist kitchen. Cover the walls with plain wallpaper or plaster. Floor coverings such as stone, resin, or parquet will be more relevant. Decorations for the kitchen should not be combined with a lot of useless elements, be sharp and catchy.
The ideal option for a kitchen in a one-room apartment will be an uninterrupted row of cabinets with a single surface plane. The light upper part and the dark base of the headset will help to enlarge the apartment. For large windows, use roman curtains, roller blinds, or curtains. Use spotlights on the ceiling, floor, or shelves as a lamp.
Bedroom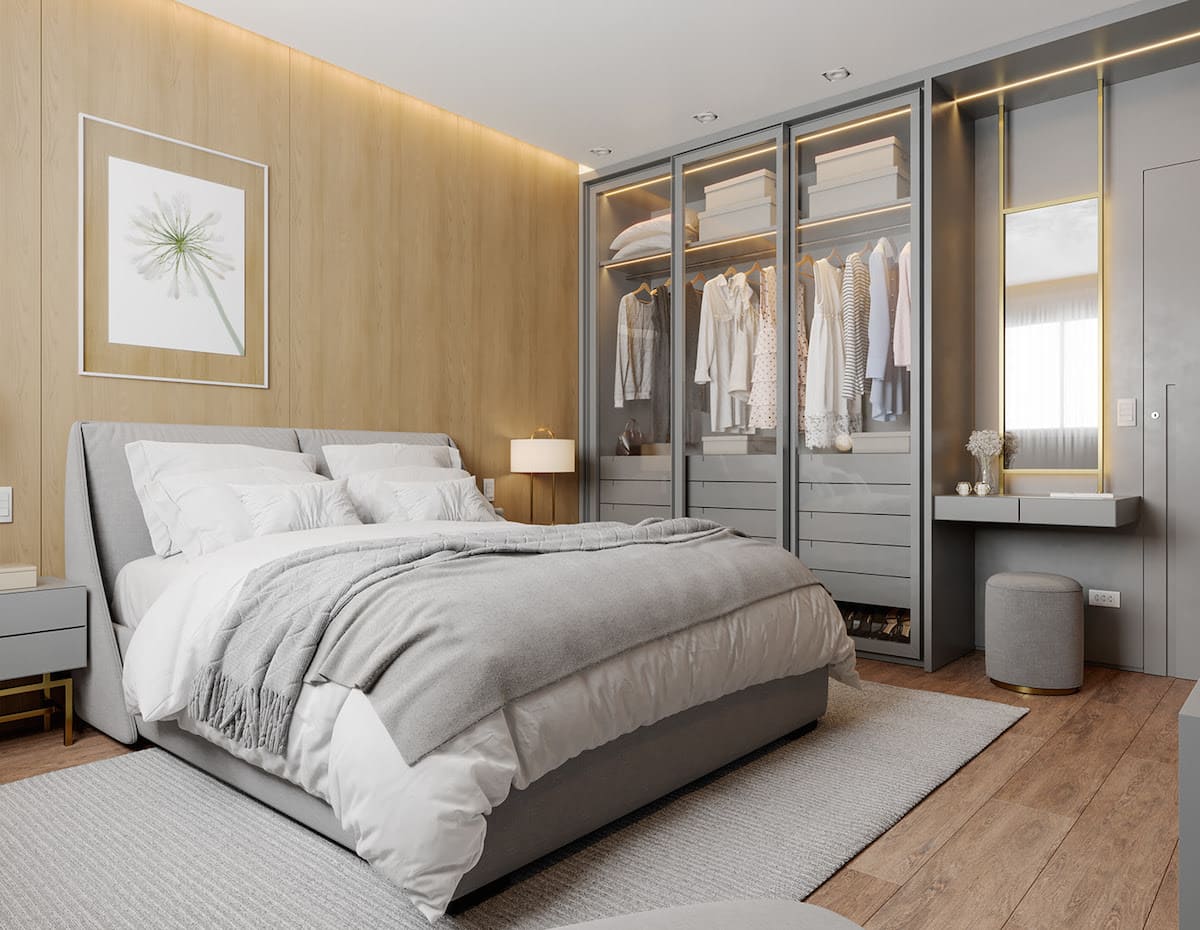 If the area of a one-room apartment allows, the main room can be divided into two zones – a living room and a bedroom. In this case, it is necessary to ensure that both rooms receive a sufficient amount of natural light.
Everything in the bedroom should be arranged so that nothing seems like an unnecessary detail. To solve this dilemma, use a closed system such as wardrobes or drawers with drawers.
To decorate the interior of a bedroom in a one-room apartment, you can combine two neutral colors, for example, take brown and beige, but exclude white. These tones are mainly used for center surfaces.
To highlight the accent, use a bright color (red or orange), with its help you can highlight the small details of the interior. Try plaster, paint, or mirrored wallpaper to decorate the walls.
On a note! A stretch or plasterboard ceiling is usually installed, and small lamps are scattered along its borders. In such a bedroom there can be no frescoes and stucco moldings.
The main accent in the bedroom is always the bed. A platform or a special canopy can be an addition to it. Use furniture to a minimum – a wardrobe and a small table.
All items must be of the correct shape with a smooth, integral surface. It is best if the wardrobe is built into the wall. If you want a mirror in the bedroom, then you will need to decide on the location of the toilet accessories.
Bathroom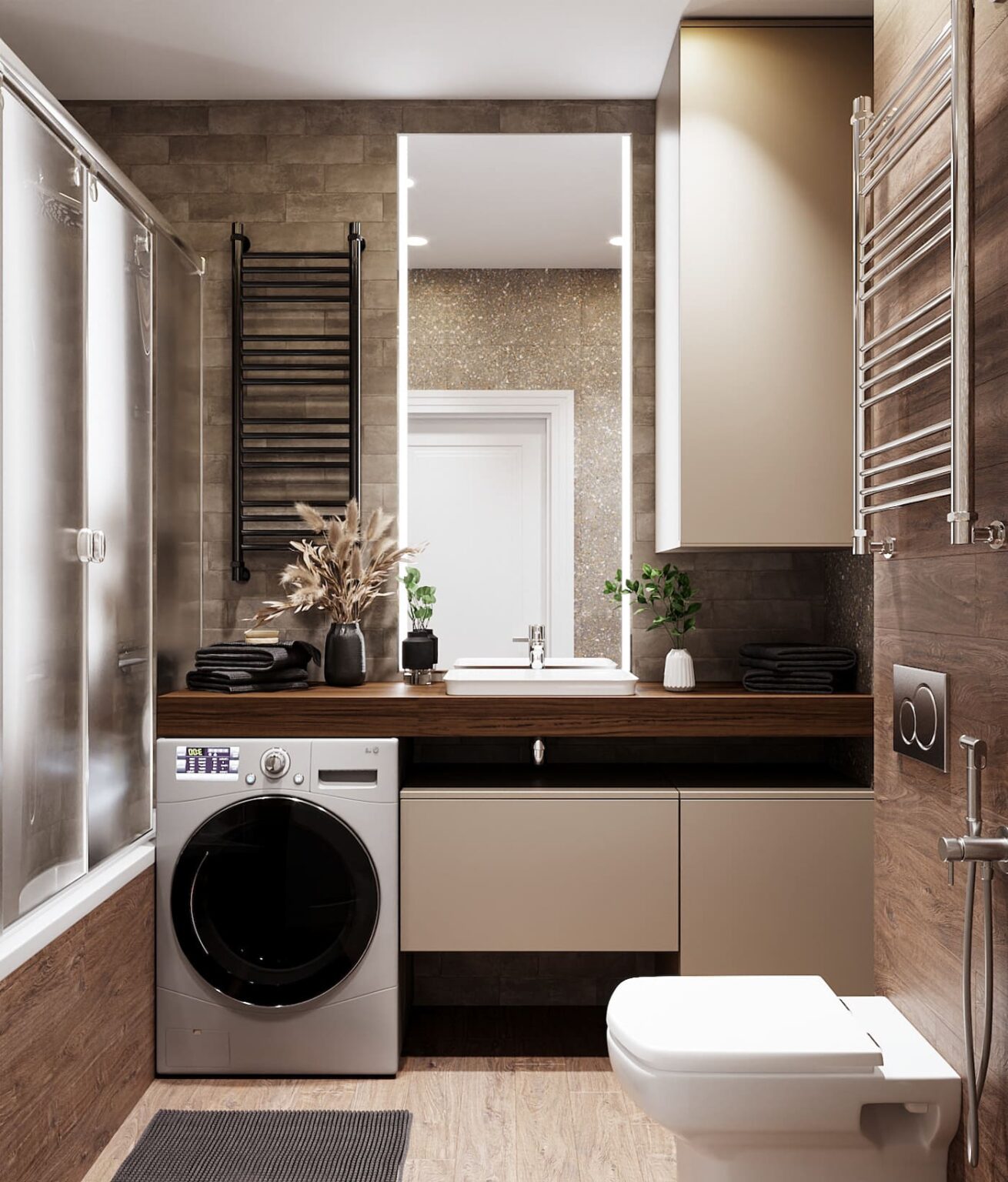 A modern bathtub should look empty, so it shouldn't be overloaded with toiletries. For interior decoration, use durable materials that will give it a chic and rich look. Use for this purpose grotto marble, eternal stone, all kinds of polymers.
An interesting combination of color combinations for the ceiling, walls, and floor will be the right solution. Imitation concrete will look good in any bathroom. Dilute it with eye-catching rugs, glass, chrome, and expensive fixtures.
There is another variation of the bathroom design in a one-room apartment. The use of two saturated shades with a dominance of white. This will give the room more space, make it visually taller and wider. The sustained design in light design will emphasize the small number of bathroom accessories.
Hanging sinks, toilet bowls, and bidets are relevant, they will also help to visually increase the space, giving the room volume. Do not use round accessories, it is better to choose products with the correct geometric shape.
If you store too many things in the bathroom, then opt for hidden cabinets. The light should be dim, never bright. It is possible to place additional lamps in specialized niches.
You can also use special lights in the bathroom, under the shelves, and in the shower. These bathtubs combine comfort, efficiency, and style on all surfaces.
Modern design ideas for a one-room apartment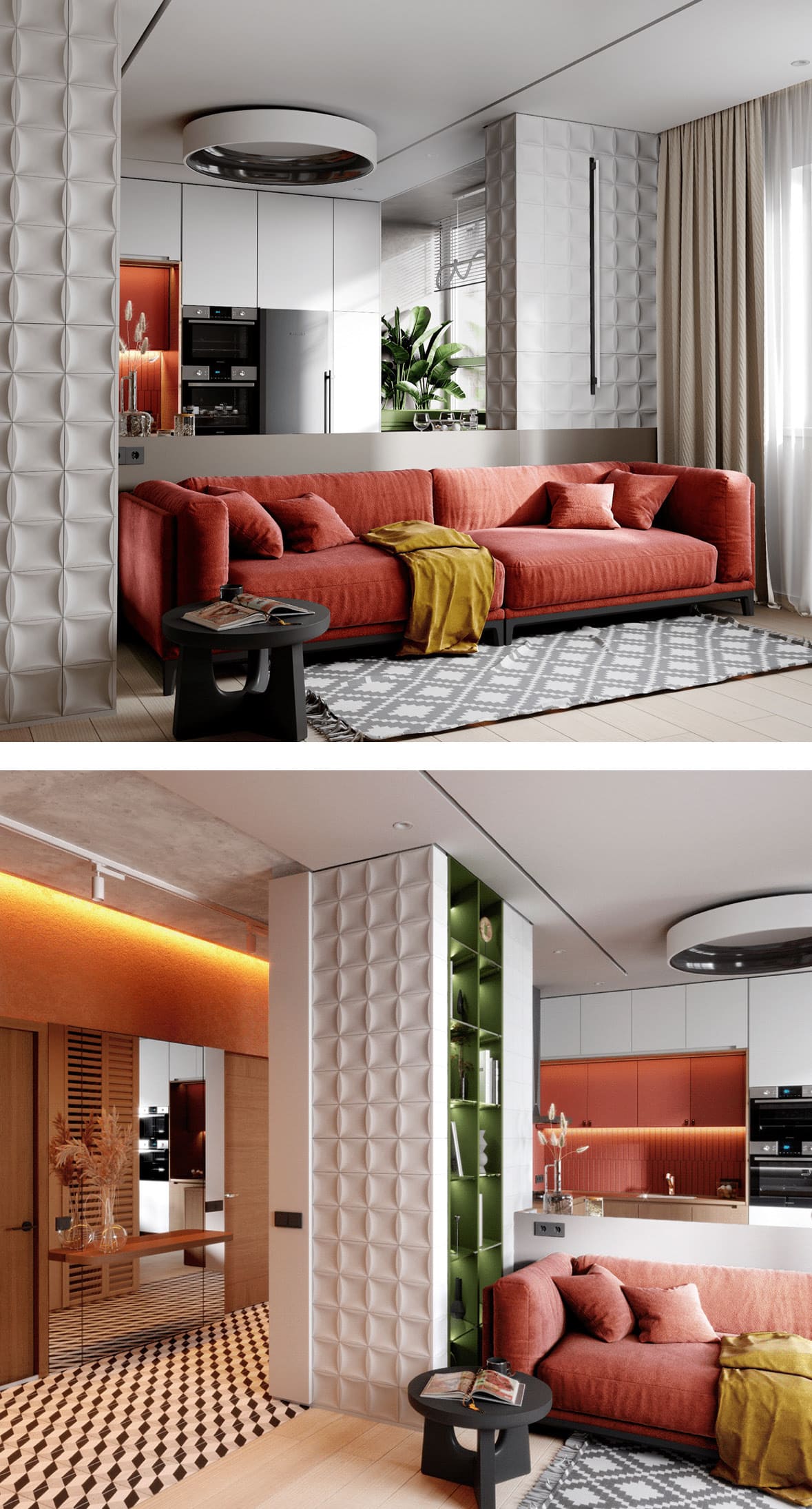 The design of a one-room apartment is based on five main rules. Let's consider them in close conjunction with practical advice, original ideas, and photos.
Do not overload the apartment. A one-room apartment shouldn't have a lot of furniture. This can lead to difficulties in moving around the apartment itself, as well as burden it. To cover all your needs will help several shelves, a coffee table, a wardrobe, a small sofa.
If it is planned to install a large sofa in the apartment, the chairs will become redundant, but if necessary, it will be possible to use the so-called bean bag chair or ottoman. Naturally, full-fledged living in a one-room apartment with a limited number of some things will cause some difficulties. This can be observed only on the covers of magazines with the design of apartments, where things of everyday household use are not depicted, where everything is simple, free, and concise.
Where should the essentials be? Right in the closet. However, one cabinet and a rack will not be enough for you to store them. Additional space will be needed. Such places can be sofa compartments, special boxes at the bottom of the sofa, or the presence of shelves.
Use furniture that has legs, it will look lighter visually than when the furniture is placed entirely on the floor. Thanks to this technique, space is formed in which a small container or suitcase can be placed.
The design of a one-room apartment is already universal in itself. With the proper organization of the space, you can get comfortable and beautiful housing, in which it is pleasant to relax after a hard day's work, to meet with friends, and do other household chores. In this regard, you need to be able to competently connect all these zones for various activities in one place. And you will succeed only if you calculate everything in detail and think carefully about the project.