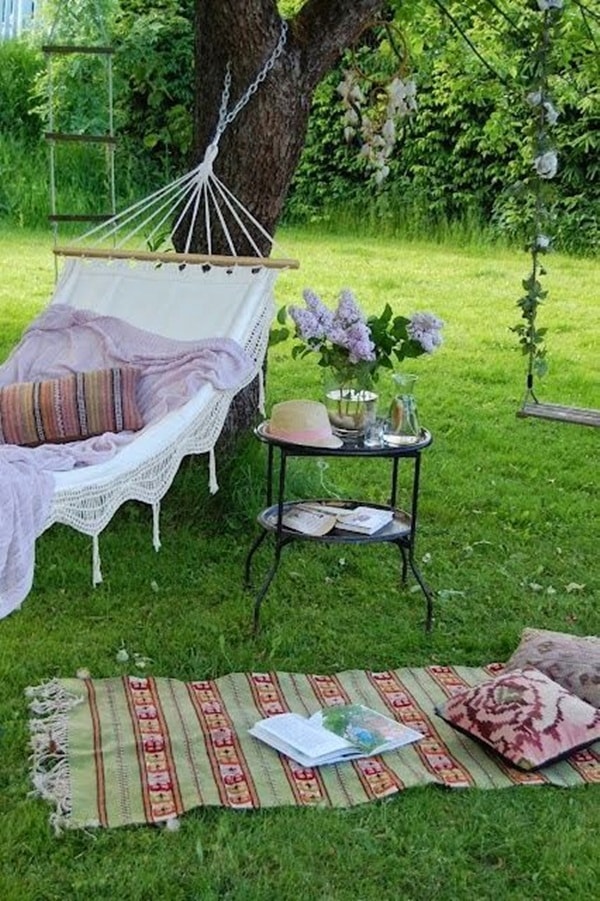 We love the patios, gardens, balconies and terraces. So many hours in them. So many sunny days. However, do you think that you take advantage of your exterior? Could you say that every inch of your garden or terrace is perfectly taken advantage of? In today's article we give you some ideas for gardens, so you can make your outdoor space a little more comfortable, aesthetic and functional.
If you are lucky enough to have a garden, you could implement from a reading area to a home garden, everything is possible if you have the time, space and a bit of ingenuity. Take notes and point out the ideas that best fit your exterior.
Ideas for gardens with reading area. Lovers of reading will find in their exteriors a great place to establish their reading area. How to do it? You have many options. You can shoot traditional image, with some of those hammocks that hang between two trees or two columns. A resource that will also provide you with a space to nap. You can also create a slightly more sophisticated corner with one of those large swings hanging from the gallery roof. Wicker and textile will be the most welcoming bets, no doubt.
Outdoor dining. Outdoor dining is also one of the advantages of having a patio or garden. Create an area for it with a nice natural wood table. Also, do not forget to protect the space with a little shade. A pergola can be very helpful. Cover it with a tarpaulin, with a cane or bet on a green corner, which will be very cool on summer nights thanks to vines and other plants.
Chill out to enjoy with friends. And after a meal or a dinner with friends? Nothing better than relaxing in a nice chill out area. Here the important thing is the comfort. Or bet for low furniture (you can make them yourself with wooden pallets) or you go for more boho options like those large hammocks lined with textiles of a thousand colors. An umbrella, a low table and enjoy the drinks.
An outdoor cinema for the hot nights. Want more garden ideas? If you have an outer space the limits you put. Do you like movies? Why not create a summer cinema in the garden? A large white canvas and a projector will be needed. From there, accommodate your guests as you like, whether with blankets on the floor, with conventional garden furniture or with a large sofa.