Source: Photographee.eu/Shutterstock.com
New Year, New You — How to Organize and Design Your Place Like a Pro
The New Year is right around the corner and with it — new beginnings! While there are lots of ways to start the year off right with new resolutions, we believe that getting organized is definitely one of them, especially around the home. So if you crave a more organized home and want to start the new year with a fresh start, we have you covered. Here are some tips on organizing and designing your place like a pro. 
Give Your Home a Clean, Lovely Scent
While it's not necessarily organizing your place, candles do offer a wonderful decor addition to just about anywhere. From a bedside table to a coffee table, a well-placed candle can make your home smell clean and lovely. Add some personality and charm to your abode with astrology candles, made with scents inspired by the zodiac to uplift your spirits and bring a sense of balance and good vibes to the home.
Want your home to smell amazing as soon as you arrive? Place a reed diffuser on an entryway table for a pleasant aroma or plug in this Pura Smart home diffuser, featuring a programmable app that allows you to effortlessly schedule your favorite scents. While it doesn't help organize your home directly, a great-smelling scent can soothe the soul and calm the mind, helping you focus. 
Make a Plan and Purge as You Go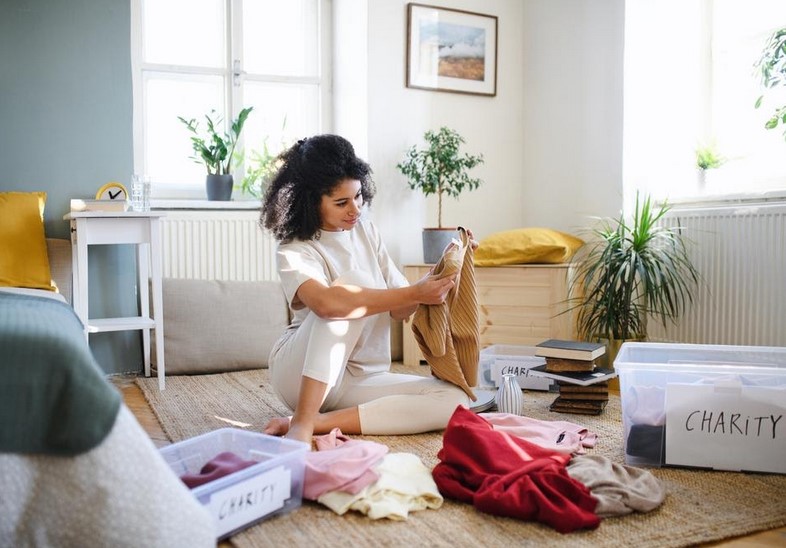 Source: Halfpoint/Shutterstock.com
Before you begin your organizing and purging rampage, you need to make a plan. So break out a notebook or note-taking app and list off each room you wish to tackle. Then, from the bedrooms to the basement, make a list of the "Must Dos" and the "Would Like to Dos." It might look overwhelming, but don't worry. Organizing your home might seem like an enormous task, but if you take it one step at a time, you will get through it.
As you begin each room — and before you even organize and decorate — purge any clutter. Keep a donation box and toss in items that you rarely use or have little need for, whether that's winter coats you didn't even touch this past December or toys that your children have grown out of and no longer play with. How much you declutter and purge is entirely up to you. You can use the KonMari method of keeping items that "Spark Joy" or simply let go of a few items that you never got around to repair.
Make the Most of Hidden Spaces (to Showcase Decor)
Closets, cupboards and cabinets — oh my! These hidden spaces can be your best friend when it comes to organizing and designing your place. This is especially true when you live in a small apartment or home shared with a large family. So how can you make the most of these hidden spaces? Easy! Organize these areas with baskets, bins and containers.
For example, in the kitchen cabinets and cupboards, organize each shelf or drawer by type of food or serveware. Keep baking supplies and spices close at hand on an eye-level shelf if you love to cook. For bathrooms, take advantage of cabinets beneath the vanity, storing cleaning supplies and toiletries that you don't want visible.
Once you make the most of these hidden areas and declutter each room, you can then showcase your decor and design your space.
Rotate Your Seasonal Decor
The best way to design your space for the new year is to pack up all the holiday-related decor and start fresh. Aim for a more minimal approach (use those hidden spaces!) and bring forth items that speak to you in the moment and represent the goals you want to achieve in the coming year. 
For instance, if one of your other resolutions is to live a healthier lifestyle, then place a fruit bowl on the kitchen island or add a bench in the front entryway that invites you to sit and slip on your sneakers for a morning run. Artwork can also be inspiring. Hang a photo or art piece that motivates you, calms you or just makes you feel good. 
Minor additions like this can transform and prepare a space to welcome your ambitions for the upcoming year. So decorate your home in a way that is unique and entirely yours. 
Look to the Design Trends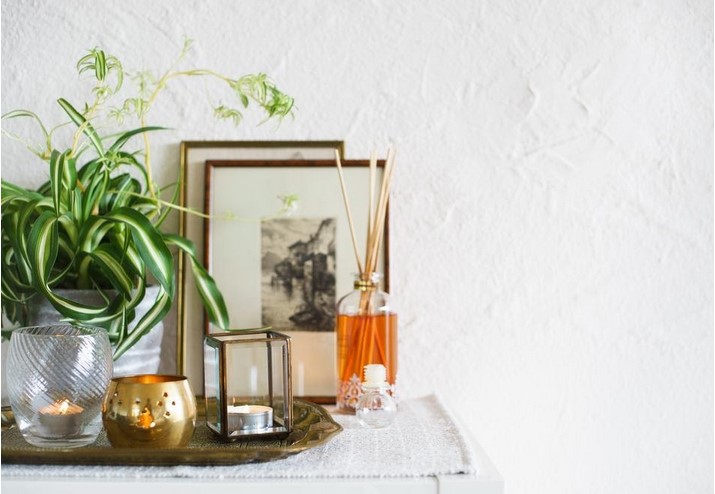 Source: Ina Ts/Shutterstock.com
If you need assistance making your home look spectacularly designed, then turn to the designers themselves. Follow interior designers on Instagram and look to Pinterest for trending decor ideas. Some of the biggest design trends for 2022 include charming vintage finds, textured fabrics, sleek marbles and tons of houseplants. 
How can you incorporate these trends? Start by finding vintage or well-loved items you already own, bringing them to the forefront and showcasing them on the living room coffee table or shelves. Lay out textured blankets across the foot of the bed and toss a few throw pillows on the sofa for an extra cozy feel. Visit the local nursery and pick up a few indoor plants, along with a faux marble pot or add a few potted plants to a new marble top side table. 
Want a clever tip? Visit thrift stores and consignment shops for those vintage finds as the rest of the world starts their new year off too. Many others will be getting rid of older items, and you might find the perfect piece to complete your space. 
Prepare for the New Year and the New You
Ready to hit the ground running for the New Year? Getting your home organized and designed is a huge endeavor but, with patience and time, you can make your space appear like it's been tackled by a professional. Remember to address one room or one goal at a time — like purging the bedroom or living room — and you'll already be off to a good start.