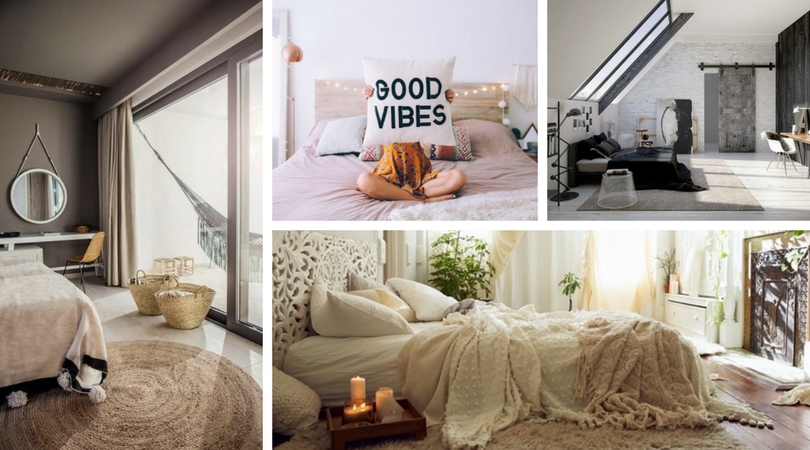 It is possible to make a beautiful modern adult bedroom. And indeed, it is not mandatory to choose a modern design cliché deco. The designers remind us that there is a wide variety of styles and possibilities for the interior. All these styles are current and can help you make a beautiful bedroom with a good atmosphere. So, the atmosphere is very important when we talk about the bedroom. The most difficult is to choose decorative objects that are modern, cozy and at the same time combine well. But to help you, our team has created an image gallery at the bottom of this page. In addition, to facilitate the realization of the mission beautiful modern bedroom, it is better to choose a style and follow it for all the objects in the room. Contemporary styles that are in fashion trend are:
The Scandinavian interior is the top trend in recent years. The reason designers choose Nordic style more and more often is simple. She hides in its functionality, simplicity and minimalism very chic. With its clean lines and color neutrality, the Scandinavian style is perfect for the quiet and cozy bedroom. The use of natural materials, such as wood, creates a feeling of comfort. Natural and resolutely warm, it comes in many shapes and variations.

The industrial style is perfect for a city apartment. This is the design to choose when you prefer materials in their raw state. The dark charm of an industrial bedroom is great for people who have a preference for contemporary decor. The dynamic lifestyle suggests the industrial deco, because there is nothing redundant, nothing superfluous. In contrast to the Scandinavian style, the manufacturer chooses dark colors such as gray, blue, black. But at the same time does not lack space or light. What we like in this style is that it combines authenticity and simplicity, as you can see in some of the photos below.

The bohemian chic style is everywhere – in clothing design, wedding decor, interior. A bohemian bedroom is a room with a lot of charm. Inspired by the hippie style, but translated into modern and chic language, the bohemian chic decor is perfect for creative people who can not live in a stacked room. Candles, fringes, bright garland, the bohemian house or apartment do not always try to be the most functional, but the most cozy. Natural materials are to be preferred when choosing objects of decoration, geometric and all ethnic motifs are to favor to succeed this style chic.

The modern rustic – this is the style that is characterized by vintage accessories, old furniture, patterned textiles, and the most important – wood and faux fur. This mix of different furniture, accessories and decorations may seem a little strange, but in reality it creates a warm and pleasant atmosphere in your home.