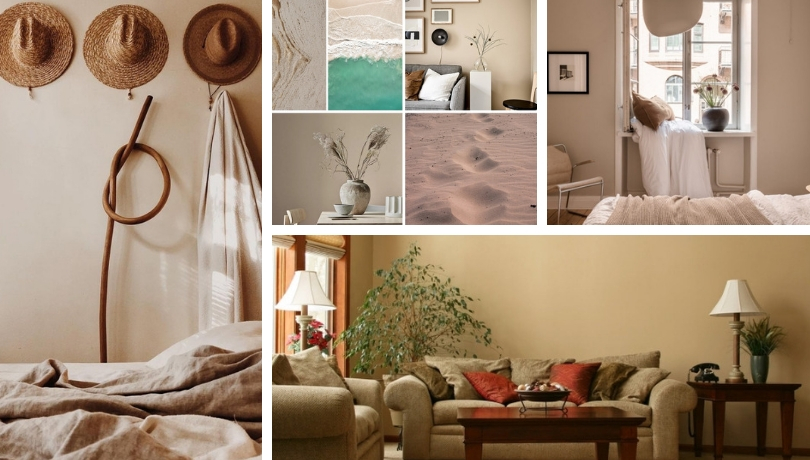 Give a relaxed aura to your home decor with the sand color
To learn the art of decorating for your home, studying colors and shades is a must, no matter what style you choose. Among the most popular shades in interior design, there are natural shades that perfectly match the rest of the colors, materials, and finishes. To help you create a balanced and relaxing décor, today we will be focusing on the color sand, which is an excellent choice to accomplish this mission. Let's go together to discover its many fantastic shades to transform your home into a magical haven, an elegant and relaxing nest.
The color of sand
As its name implies, sand is a color with yellowish or brown reflections that reminds us of the peace and beauty of exotic beaches on our planet. Like nature, the interior features different shades of sand ranging from light beige to darker beige, sometimes yellow, pink or orange. The sandy shades add a relaxing and harmonious touch to the décor while allowing us to create a cozy or trendy atmosphere to our liking. Among the many virtues of this modern color, there is its versatility and power to bring a note of balance and tranquility to any room. In addition, neutral shades are an ideal decoration tip to visually enlarge a confined space.
To change the atmosphere, one of the most classic variants is the refurbishment of the walls with a few layers of color. Here you have a wide range of possibilities to find your favorite sand shade. In addition to soothing shades, it is also possible to choose a sandblasting style that will give a nice calm to the walls that look like fine sand lines.
Sand-colored objects
If you don't have the time to invest in radical changes, you can also opt for small decorative transformations. To refresh, for example, the decoration in a white living room, consider decorating the sofa with multiple soft pillows in different shades of beige and decorating the floor with a single pallet carpet. The same goes for the bedroom: a sand bed and a wall of beachfront are a cool idea to get a great result almost effortlessly.
Thanks to its natural appearance, the sand fits perfectly with almost any other color and thus fits into any type of decoration. So you can welcome it in your rustic or country kitchen, in a Zen bathroom, but also in a modern living room or a minimalist room. However, it is important to pay attention to the combinations and small details to avoid creating a boring decor. Now let's see what are the good alternatives to the correlation of sand color.
Sand and other colors
In general, you can choose between a harmonious decoration in natural shades or a decoration that plays in elegant contrasts. In both cases, you can also add light-colored objects to bring the atmosphere to life. Here are some ideas for the most successful sand combinations with:
white – for a bright and balanced decoration

light yellow – for a warm and sunny atmosphere

brown – for a rustic and natural décor

beige pink – for a gentle and feminine atmosphere

black – for a contemporary contrast effect

and elegant pastel – for a fresh yet elegant interior