Top 5 Factors to Consider Before Buying a Ceiling Fan
There's nothing like a ceiling fan to cool you down on a hot summer day. The breeze from a ceiling fan can allow you to turn up your thermostat by as many as four degrees in the summer, and in the winter you can reverse the fan blades' direction to force warm air back down into the room, where you can feel it. Running a ceiling fan costs just pennies compared to running your air conditioning or heating, and because it uses so much less power, it's more sustainable, too.
But before you commit to a ceiling fan purchase, you need to know what to look for. Ceiling fans these days come in a wide range of designs to fit diverse tastes and decorating themes. You can get a ceiling fan with lights and smart features that can be used indoors or out. Here's what you need to consider before you buy a ceiling fan.
In the old days, you could get ceiling fans with lights, a few blade speeds, and a switch to reverse the direction of the fan blades. Today's fans have so much more to offer. You can buy a fan with LED lights that don't get hot and that use a fraction of the power that traditional incandescent bulbs do. You can skip the pull chain and buy a fan with smart features that allow you to control its speed and direction wirelessly, through a smartphone app or smart home device. You can buy fans that come with remote controls or a wireless control box for the wall that doesn't require any additional wiring to be run. 
Make sure you buy a fan with the features you need. A wireless control panel for the wall or a remote control is a must-have, especially if you're on the shorter side – who wants to drag out a step ladder every time you turn the fan on or adjust its speed? You also definitely want a ceiling fan with an LED light fixture included.
How much air can a ceiling fan move? You can find out by checking the cubic feet per minute (CFM) rating on the box. Don't buy a fan that moves fewer than 4,000 CFM. If you can afford it, get one that moves at least 5,000 CFM or even 6,000 CFM or more.
Choosing a fan design can be the hardest decision you'll make regarding a new ceiling fan. There are just so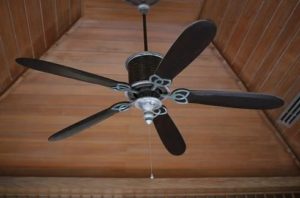 many choices out there these days. Think about your decorating style – is it more traditional, contemporary, tropical, eclectic? Choose a fan that fits in with the rest of your furniture. If you're going for a fan that has a wood finish, make sure it matches the most prevalent wood color in the room where it will hang. If you're partial to one with a metallic finish, match it to the finish of the room's hardware, like door knobs and light switch covers.
It's very important that you choose a fan that's rated to withstand the moisture conditions in the area where it will be in use. You can buy an indoor or dry-rated fan if you plan to use it in an area where it won't be exposed to a lot of humidity, like a living room or bedroom. But if you're buying a fan for a kitchen or bathroom, where moisture might be present, you should opt for a damp-rated fan. 
If you want to hang your new fan outdoors, where it might be more exposed to the elements, you need to buy a wet-rated fan. Wet-rated fans are made with materials that can handle exposure to the elements, and their motors are sealed and waterproofed so your fan will last for years. If you live on an island or in a coastal area, you need a marine-rated fan that can withstand not just rain, ice, and snow, but also salty sea winds.
A ceiling fan needs to be sized appropriately for the space it's in. If it's not, it might not be effective – or it could be too effective, depending on whether it's too large or too small.
Ceiling fans are measured across the sweep, which reaches from one blade tip across the middle of the fan to the corresponding blade tip. Use this guide to make sure you're getting the right size fan:
For rooms smaller than 50 square feet, use a 29-inch or smaller fan

For rooms 50 to 75 square feet, use a 29- to 36-inch fan

For rooms 75 to 100 square feet, use a 36- to 38-inch fan

For rooms 100 to 150 square feet, use a 38- to 42-inch fan

For rooms 150 to 200 square feet, use a 42- to 46-inch fan

For rooms 200 to 300 square feet, use a 46- to 52-inch fan

For rooms 300 to 400 square feet, use a 52- to 54-inch fan

For rooms 400 to 500 square feet, use a 54- to 56-inch fan

For rooms 500 to 750 square feet, use a 56- to 70-inch fan

For rooms 750 to 1,000 square feet, use a 70- to 84-inch fan

For rooms larger than 1,000 square feet, use a fan at least 84 inches wide
The right size fan will keep your room cool and comfortable without being overpowering.
When you're picking out a ceiling fan, there are several factors to consider. Make the choice carefully, because your ceiling fan will be a permanent fixture in your home – and one you'll hopefully use every day.