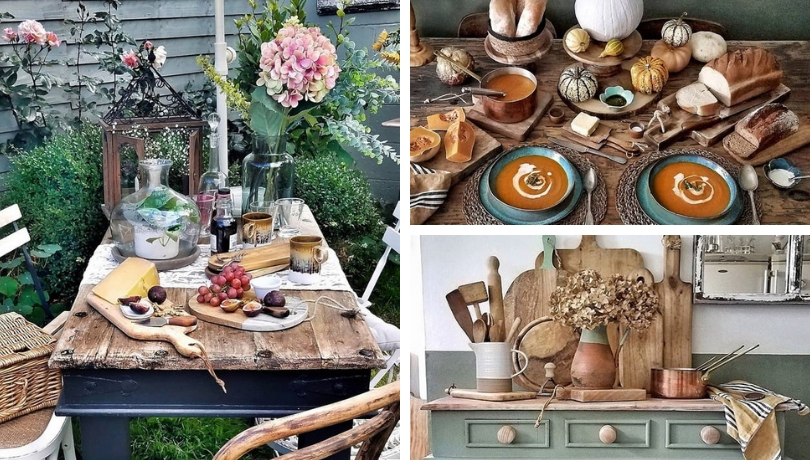 Why bet on a decoration based on recycled furniture?
Using old materials and furniture, or second hand, is not only a trend but also a necessity. In the last 30 years the production of waste has multiplied. Reusing furniture and objects is a way to fight against global warming as well as a considerable saving of energy (necessary for the manufacture of them). Yvonne in her house has been able to take advantage of old materials and furniture giving it a new life and aesthetic.

In this new post from the "Instagram Houses" section, we invite you to visit the beautiful house of Yvonne, from her Instagram account: @sixat21 shares every corner and every detail.
Both vintage and retro styles are not mere coincidences that are trends. They have arisen due to the need for responsible consumption that helps the environment. It is important to opt for a lifestyle that focuses on recycling as the owner of this beautiful residence has done.
Decoration with wooden pallets
It is a trend that continues sweeping through its innumerable advantages when it comes to reusing them for a rustic decoration. The pallets are very manageable and versatile, they can be used in many ways to create a variety of DIY furniture and accessories. The initial use is to transport products and materials in clothing and food stores, so it is very easy to get them.
Colors and textiles in rustic decor
It is one of the warmest decorative styles where earth colors predominate: beige, brown, toasted, terracotta, orange, green, earthy tones. All tones that are inspired by nature are welcome. Textiles bring warmth and style to the home, and the key is to know how to combine them to achieve a comfortable and cozy environment.

What do you think of this magnificent house inspired by rustic decor? If you want to continue seeing how it is evolving and creating new environments, follow Ivonne on her Instagram account: instagram.com/sixat21/
Check in following images fantastic rustic decor ideas based on recycled furniture