Autumn Plants & Ideas to combine them in pots
Autumn is identified with a general "withering" of nature, but in reality there are dozens of ornamental species that thrive in that season, and with the right combination your garden or balcony will be vibrant and gain vitality.
Autumnal Pansies are one of the simplest options to create impressive flower pots using different plant varieties with different colors and flower sizes. You can plant in large containers only pansies or combine with any type or vertical higher growing plants.
Pansies are especially impressive in hanging pots – baskets, and small decorative Ivy, Fern is as small Conifers are the most appropriate types to combine their planting in the same container.


Multicolored little peppers that remain vibrant during the autumn can give a vivid color to flowerpots, combined with either exclusively green or flowering plants such as Chrysanthemums or Cyclamen.
Another seasonal … vegetable such Cabbage can offer very intense color and a striking look to pots, ornamental flower beds or even flower beds during the autumn. The varieties of Decorative Cabbage in bright blue-purple or yellow shades. Their really … huge size makes them particularly impressive whether you plant them individually or in combination with other seasonal species.
Heather Kaluna or Erika is one of the evergreen shrubs that bloom from September to December and can also be used as an indoor plant without requiring special care except watering when the soil dries. The white, pink or purple flowers that cover the entire length of the shoots give Kaluna a particularly striking look and can be planted in combination with other species such as Pansedes, Decorative Ivy, Cyclamen, Ferns etc.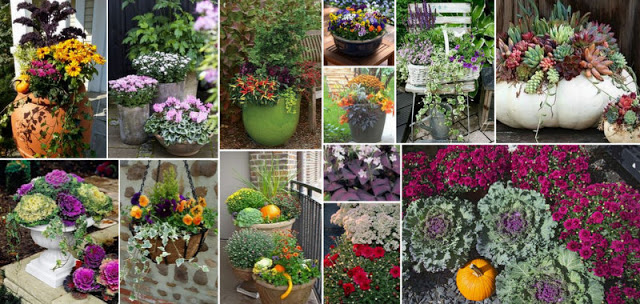 The Cyclamen are perfectly identified with the autumn season, remain blooming until the first severe cold of winter, and in flowerpots-ornamentals of particular ornamental value besides the flowers are also their impressive bicolor leaves.
Add all of the autumn colors to a flower pot by planting different varieties of Euchrea. Its flowering usually stops at the end of summer, but its striking foliage in green, yellow, brown or purple shades remains vibrant throughout the winter.
The timber sorrel with deep purple foliage and white-pink flowers are among the most strikingly flowering plants throughout the autumn. It has a fairly large lateral growth and is therefore ideal for planting in flowerpots with small hanging plants.
Chrysanthemums. Absolutely identified with autumn flower. Choose from dozens of varieties in shades and flower sizes to add color to any part of your balcony or garden.
The white, orange, or bicolor decorative pumpkins you will find in grocery stores in mid-September are another type to add an autumnal atmosphere to your garden or balcony. Place them, depending on their size, in or next to pots of autumn flowers. Outdoors will withstand for many weeks especially if they are protected from rain water. Pumpkins can be used as … pots or planters. Empty most of them inside and place chrysanthemums, cyclamen, pansies, succulents, etc. The most practical way is to place the plants with their pots so that they do not need to be re-planted when the pumpkins rot.
And of course … all the time and season Succulents are one of the easiest options for autumn planting pots, especially if you choose to plant species of different shades together.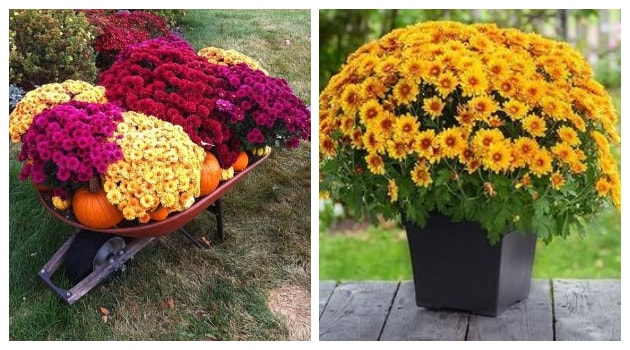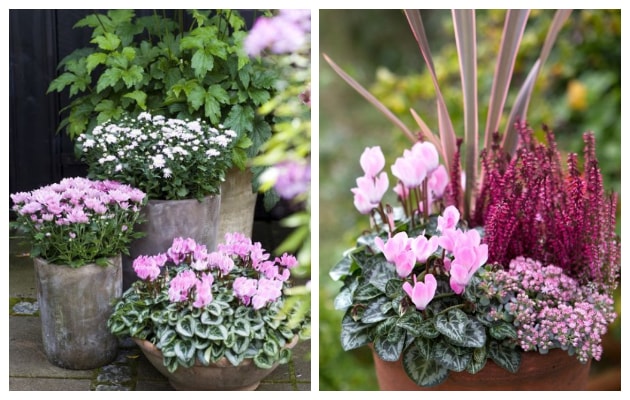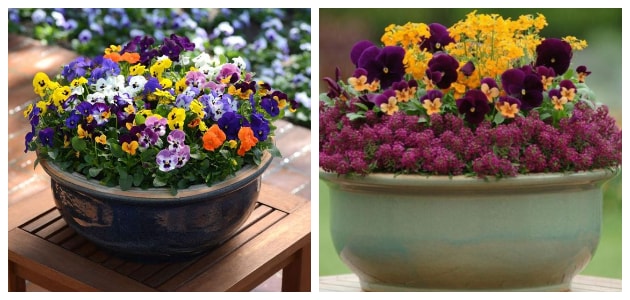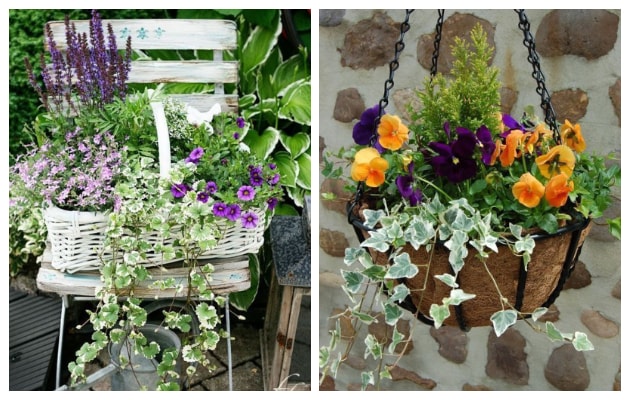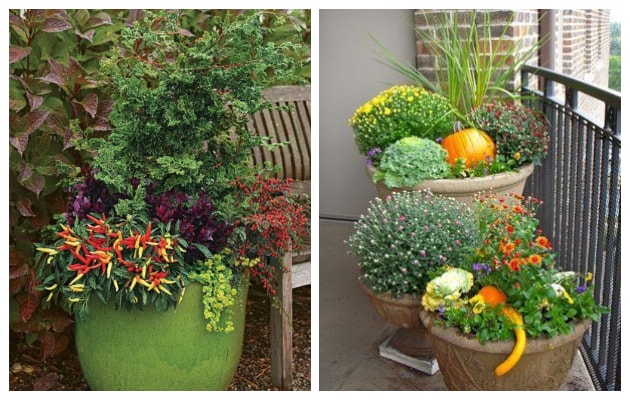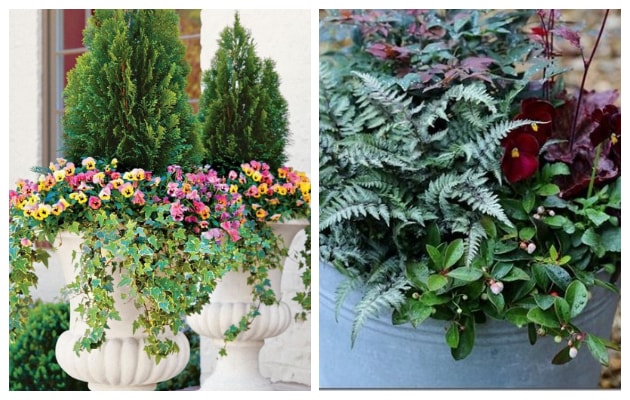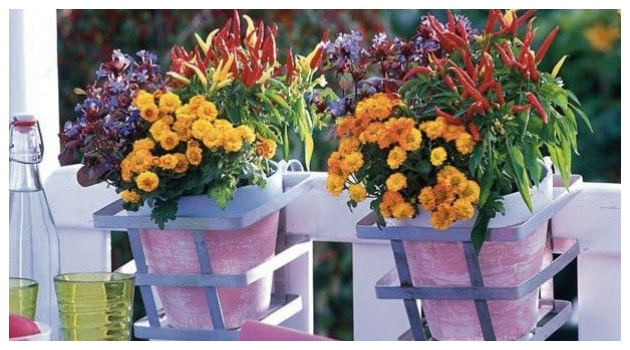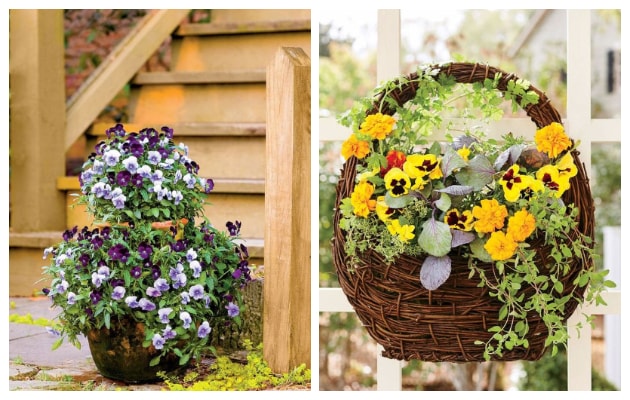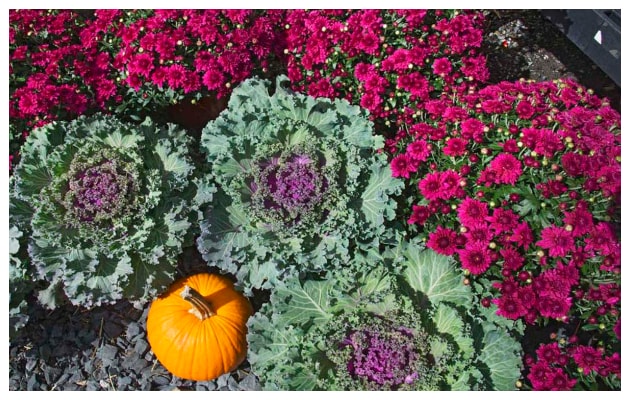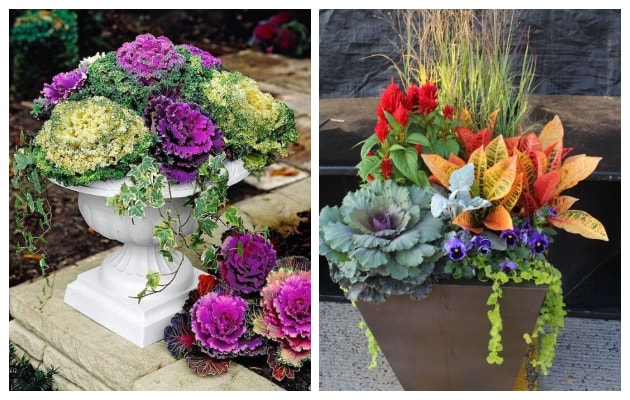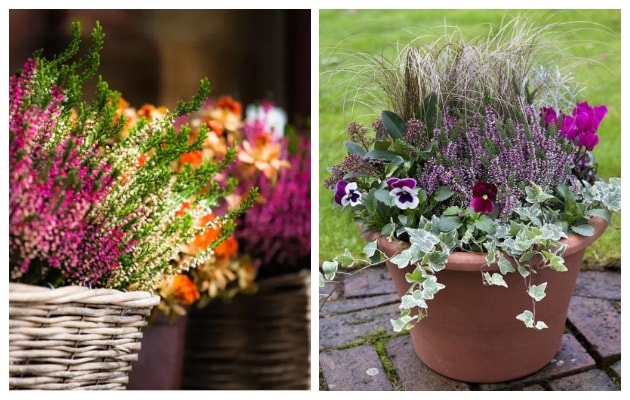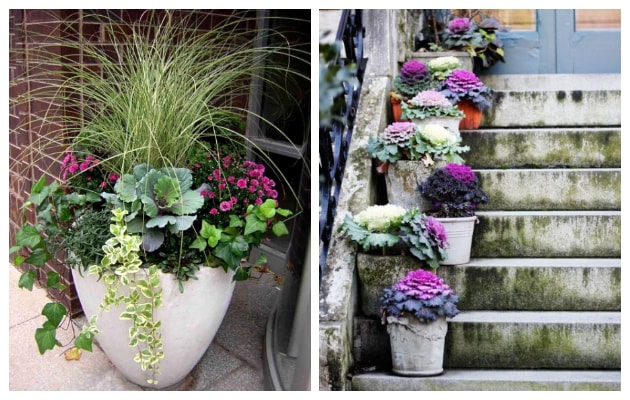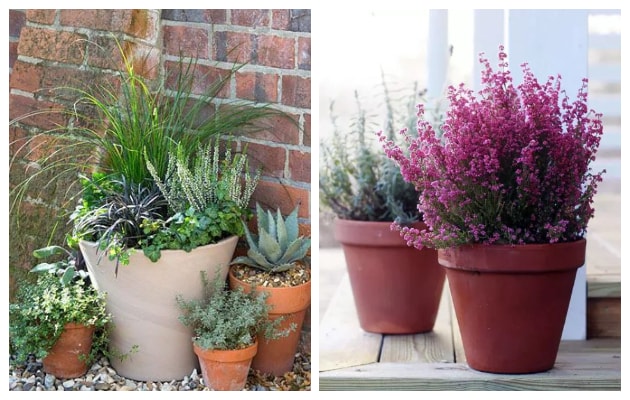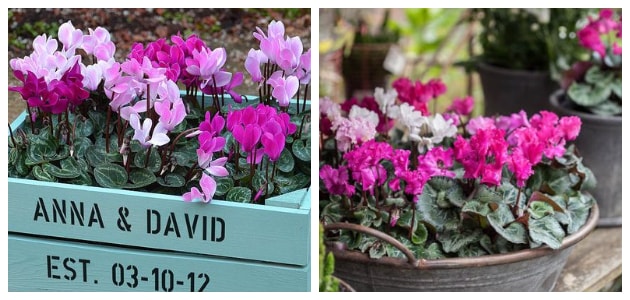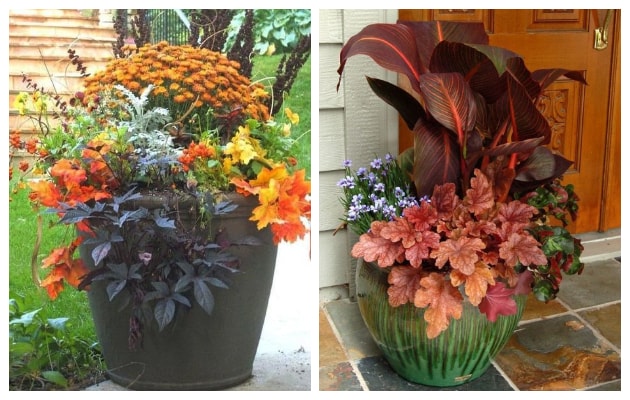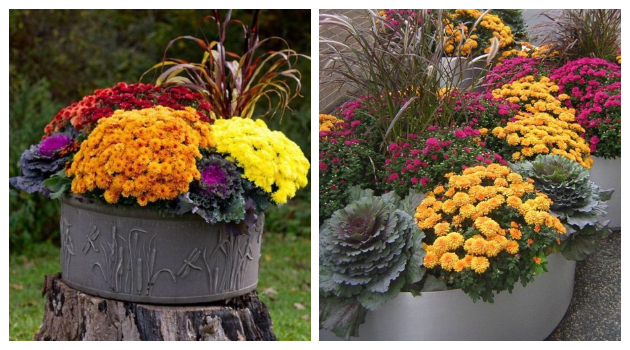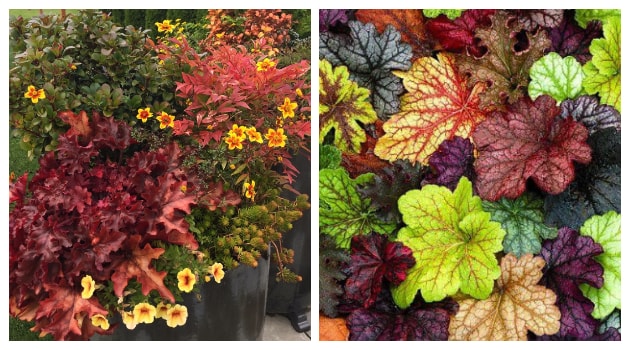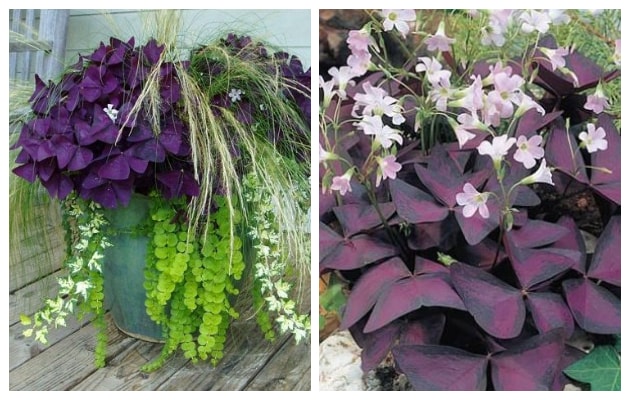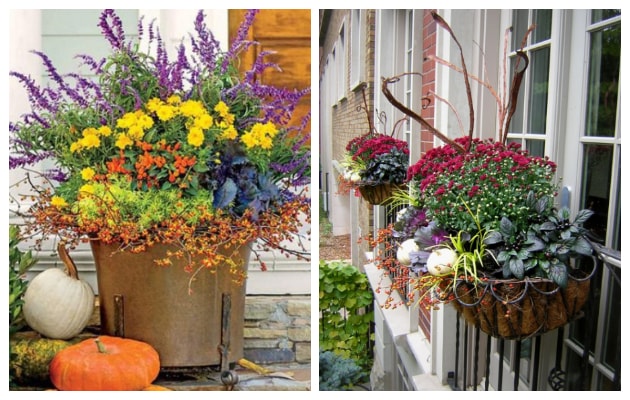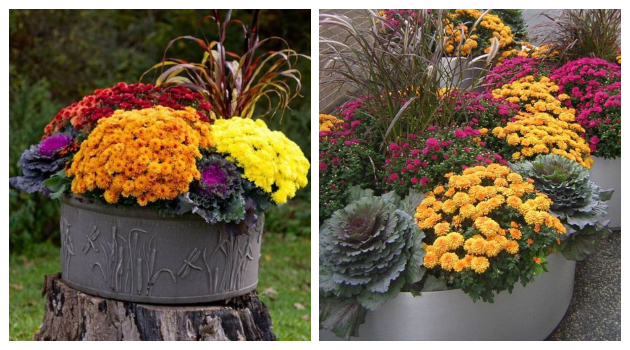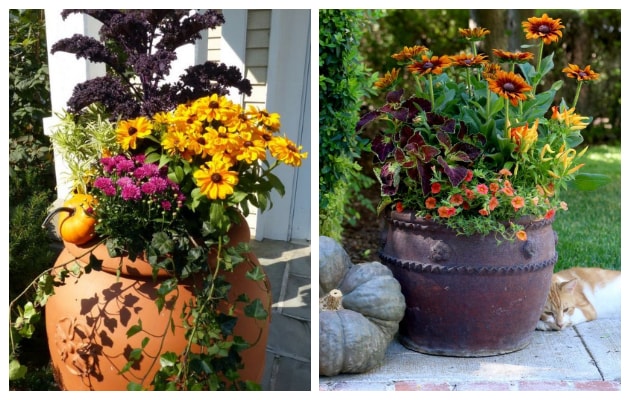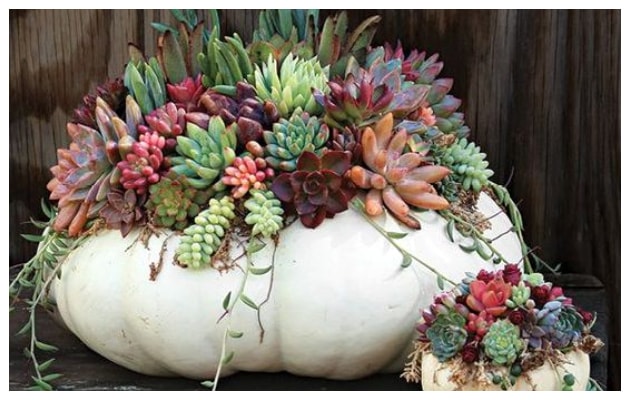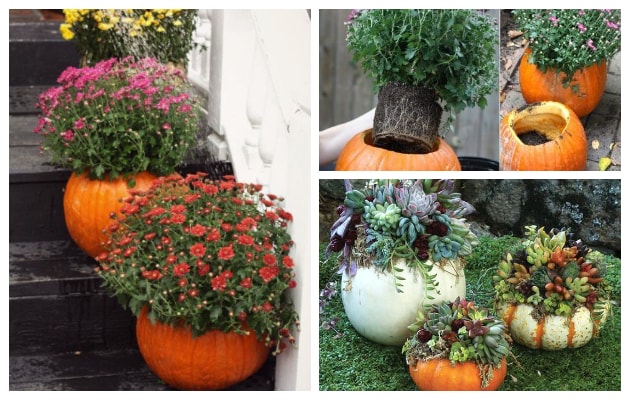 Source: soulouposeto.gr