5 low-budget Halloween decor ideas for your space
Whether you own a shop or a cafe, a grocery store or a bookstore, you're probably looking for ways to get into the Halloween spirit this season. And you should. Customers love to see special seasonal displays at their favorite stores so this is the perfect way to draw in more people, and subsequently, more sales.
Your Halloween decor doesn't have to be incredibly ghoulish or creepy to truly capture the essence of Halloween. Based on the kind of space you're in, you can make your decor cutesy, quirky, elegant, you name it. Just remember to be original, be creative, and have fun doing it.
In this article, we've put together some easy, exciting, low-budget Halloween decor ideas for you to spookify your space. Take a look!
1. Make a bat wall
This is a simple way to make your place ready for Halloween. Not only will it add the right amount of spook to your decorations, but a bat wall will also take up enough space at your store or cafe to make it look Halloween-friendly.
Preparing your bat wall is an easy process. All you'll need is some black chart paper, black construction paper, scissors, glue, and of course, some killer arts and crafts skills. The latter is optional because this process is so easy, literally anyone can do it. 
Make an outline for your bat on a piece of chart paper. Then, replicate this as many times as you want based on how big you want your wall to be. Cut these out, use construction paper to add details such as fur, and that's it. Your bats are ready. 
Now, arrange your paper bats strategically on one wall or portion of a wall. It helps if the wall is painted in a light color, just so the bats can have the spotlight.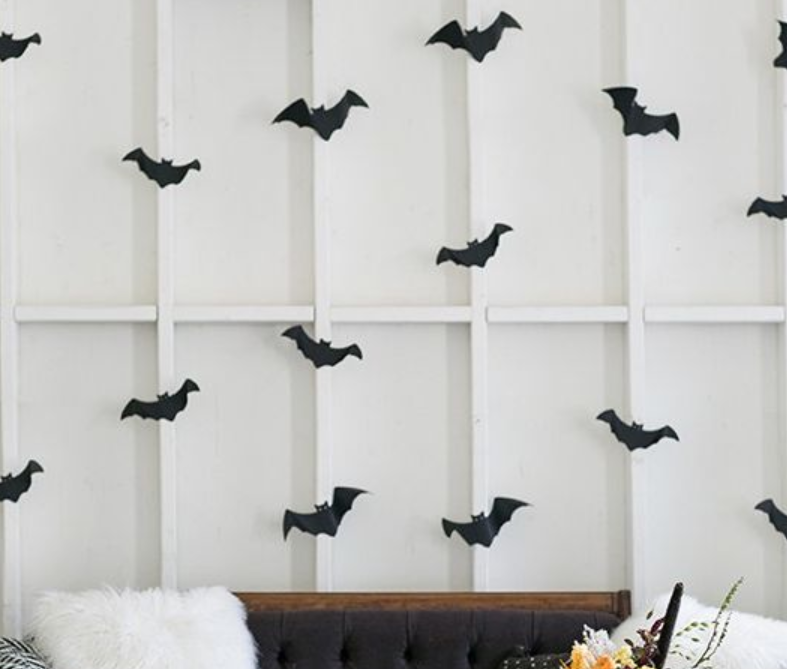 2. Create a Halloween-themed window display
If your window display is spooky enough, we can guarantee that you'll see a greater influx of customers in your space. Create a small space at the front of your store, and place all your Halloween items in it. If you're running a bookstore, stack your horror novels here. If you're a clothing store, display your Halloween-themed shirts.
Next, get a life-sized plastic skeleton and settle it down in one corner, facing your Halloween items. The idea is to make it look like the skeleton is guarding your products. You can even accessorize the guy with a witch's hat or a spider on the shoulder.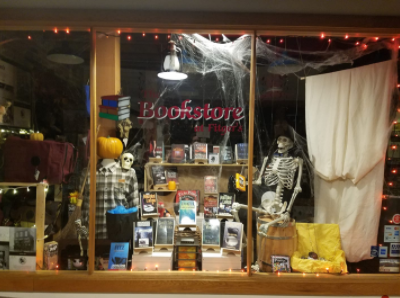 Finally, decorate the window itself with some fa-boo-lous Halloween-themed posters. Not only will these look good, but you can also use them to advertise a Halloween sale. If you're not sure where to start with a poster, find a bone-chilling Halloween template on PosterMyWall and customize it in seconds. 
And if you want ideas on how to create the most eye-catching poster, check out this Halloween Calendar for some exciting ideas and inspiration.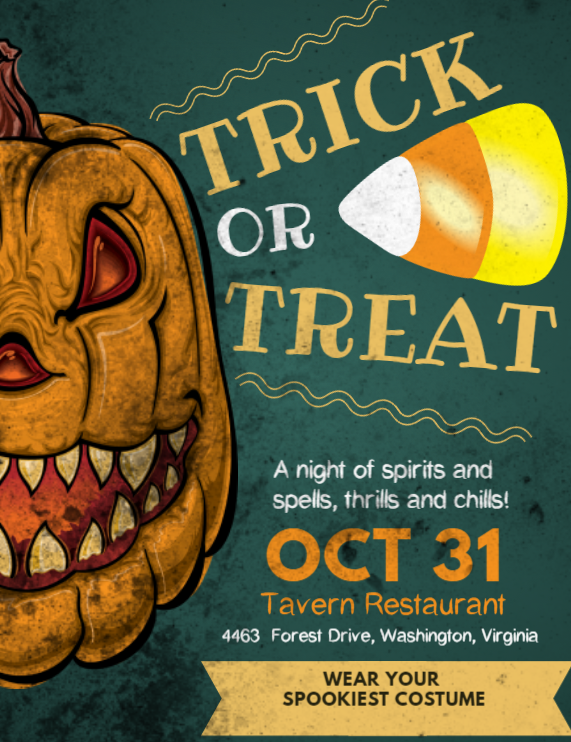 Finally, sprinkle some fake cobwebs over your entire display to bring the whole thing together. 
3. Spookify your lights
Lighting can have a huge impact on the overall mood of your space. Use this to make your store Halloween-ready. 
Get some orange, pink, and purple translucent glossy paper. Tape pieces of different colored paper over your light bulbs to dim them. The three colors merging together will create exactly the kind of eerie vibe that you want for Halloween.
Because people will be inclined to look over at the lights, add some more decoration to them. For instance, wrap a fake vine around a lamp, or paste some rubber spiders and snakes on and around the lightbulbs. Remember, the spookier the better!
4. Lay out some Halloween jars
This is perfect if you want to keep your Halloween decor cutesy and minimalistic. Get some fancy glass jars, and fill them with Halloween goodies – small ornaments, fake eyes, spiders, or skeletons, and of course, lots of wrapped candy. 
Encourage your customers to pick something they like and take it home. Place these jars strategically around your space. Place one at the entrance, another somewhere in the middle, and then a few in the corners. 
5. Get some pumpkins
You can never go wrong with pumpkins on Halloween. There are plenty of stores that sell in-expensive plastic pumpkins that are already carved. Simply buy some and place them around your space. Make sure to put them in places where they are easily visible but not in anyone's way.
If you want to go the extra mile, paint the pumpkins different colors according to the theme of your place. An alternative to placing pumpkins around your store is to find a nice corner to place all your pumpkins in. Call it "The Pumpkin Patch" – add some stools and magazines so people can sit in the pumpkin patch if they want to. This is an especially good idea if you run a store and often have people waiting for the people they're with to finish their shopping. It's also great for restaurants and cafes that have people waiting for a seat at a table.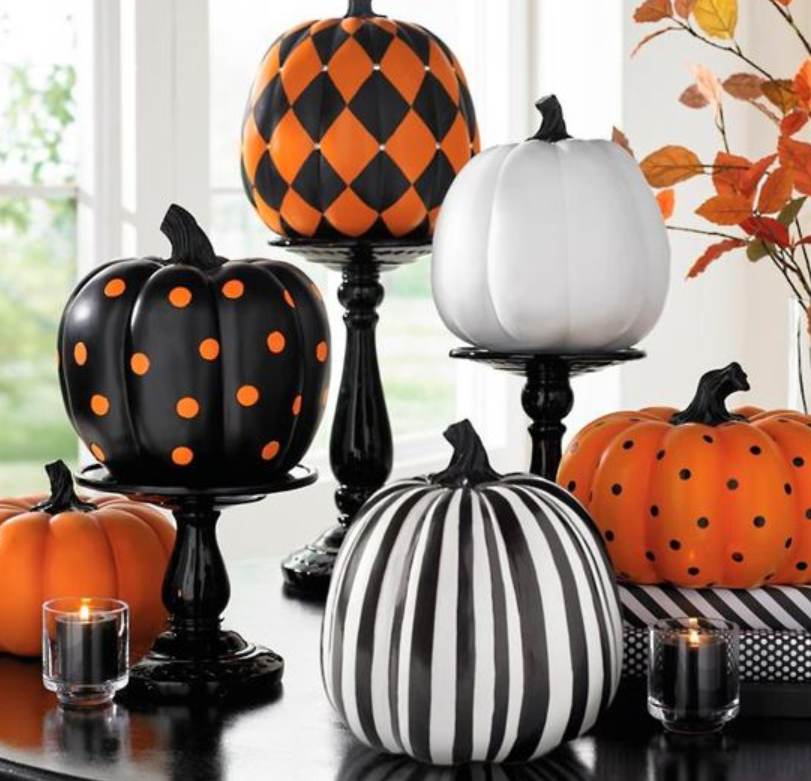 These Halloween decor ideas will definitely get everyone in the Halloween spirit. Not only that, they'll bring customers into your space and increase visibility for your products. Not to mention your space will look super cute when you're done decorating. So unleash your creativity and turn your space into Halloween central!