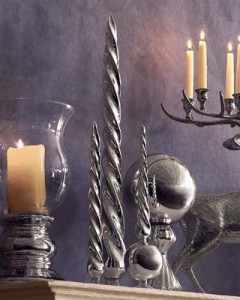 For most of us Christmas means more than just a great celebration. From young children eagerly look forward to those magical days with great pleasure that we participated in decorating the Christmas tree. Today, this tradition is kept intact … everyone wants to celebrate and brighten the days of Christmas and New Year the best yet and economical manner.
Every year at Christmas, we think of new ideas on how to decorate our home. Should we focus on traditional and easy solutions? What can be better than to wellcome our guests at Christmas by placing some decoration at the entrance of our house? A wreath that can make easily with a mistletoe and red velvet ribbon, is what you need!
One of the most favorite decorating ideas are oranges decorated with cloves pins! We can add your choice of ribbon and hang them or place them on a platter! It will be excite our two basic senses, sight and smell and will definitely fill a smile and good mood!
The Christmas socks! A  great tradition-loving from all children around the world! You Can fix it yourself! A nice idea is to give the glow on her by sewing silver or gold buttons! If there is fireplace it is the best spot to place it!
Decorate the stairs of your house with green garland and a few distinctive ornaments! The atmosphere will be very warm! You can do it in an outdoor staircase, by putting also some christmas lights!
Ornament! What is more classic for Christmas? Plans are infinite … But you can do for yourself some. For example, you can get a cone and the color it with a spray! You can add  a ribbon and its ready.
A very nice idea for the privileged who have a fireplace! Taking or sew a backpack with warm colors or Christmas plans and fill it with wood you have buy for your fire. Add a few pine inside and around the bag and its ready for the Christmas atmosphere!
What is better than candles … Themselves make up the atmosphere! Especially when it is adorned with beads and cones! The result is amazing! Candles are good to have in every dinner and now for Christmas!
Good luck in your … Christmas decoration!
But … no matter how long time you have to decorate and what options you have – the most important …: your home emits warmth, comfort and love. Smile more and to love one another! Happy Holidays!