Natural stone walls in the interior design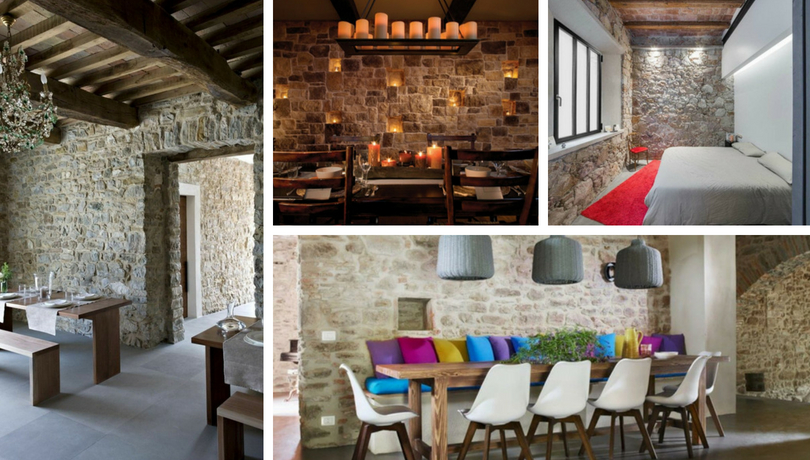 Today we show you some ideas for stone walls in interior design. The use of natural stone in the construction, design, and decoration of homes has been common for many centuries. But, the difference is that our ancestors often simply had no other choice, whereas today fashion is what governs the use of a material and we can say that the use of stone in the interior and exterior design of the buildings is experiencing a reappearance stage.
But the truth is that at present, there are not many who can afford the use of natural stone since it is a rather expensive option. But thanks to modern technologies, we have the opportunity to use an artificial stone, whose color and texture is practically unlimited.
Types of stone that we can use in the interior design. We will divide the stone into two categories natural and artificial.
The natural stone The natural stone in the interior of the house adds a touch of nature and remains impressive. We are sure that you have reviewed some of our articles on rustic design in which you can also see ideas for the use of stone in the interior.
In these post photos, you can also see interiors with stone walls, fireplaces, floors, backsplashes, window frames. Choosing the stone for the interior design depends on the image we want to create and the room in which we want to add natural stone. But its properties and the pattern will depend on the budget available to us.
The natural stone in the interior has a beauty and strength and combined with plants or fresh flowers creates a very lively space. We must not forget that this is a material of massive finishing that adores the amplitude of the space, reason why for a small it will not be the most appropriate option.
Do you need more inspiration for natural stone walls in the interior for every room? if yes just check the following images.