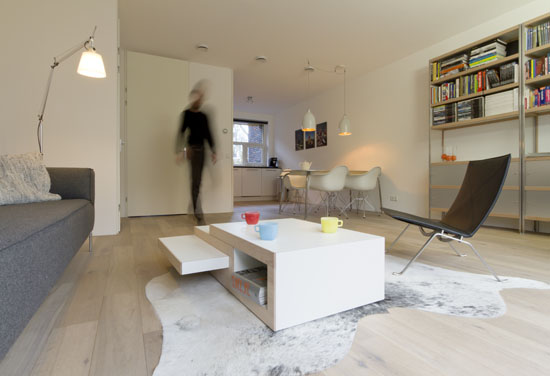 REK is a coffee table that grows with your coffee needs. When you have visitors, just get some chairs and extend the table any way you like. Built-in stops make sure you will not extend the sliding parts too far. Of course you can also put REK in a permanent position that fits your interior.
The top and two sides of REK are white HPL and the edges are finished with your choice of solid wood: oak, berch or beech. The end grain side of the wood is beveled in order to get a grip: A subtle detail. The dimensions of REK table obviously vary with its configuration: 60 by 80 cm in collapsed state, its maximum lenth is 170 cm and its maximum width is 130 cm.
dimensions: 80 x 60 x 30 cm (collapsed) colours: white & wood (oak, beech & birch). For mor information you can visit www.reinierdejong.com.