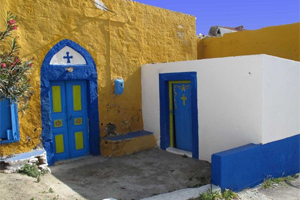 Once upon a time there was a gray and dull village .. such as gray and dull are many villages and towns in Greece. But a spirited and bright day, just before Easter, the youth of the village of Fanes Rhodes decided to change everything. Got paints and brushes and started painting the walls, fences, courtyards, abandoned buildings and any indifferent and colorless corner who "called" persistently to revive and escape from the lethargy of years. After several days work, the results were unique and  left visitors and residents speechless. In 12 days 72 houses ​​painted. The village of Fanes, was transformed into a colorful and fabulous city, in a lively and spontaneous painting.
The initiative started from an idea of the artist and architect Lucas Nikolitsa, which found fertile ground among the people of the village. Young is probably the only part of society that can believe unique ideas and work collectively for them, not to expect any immediate benefit. So without any financial support began in the venture, pulled quickly and without much difficulty over the village.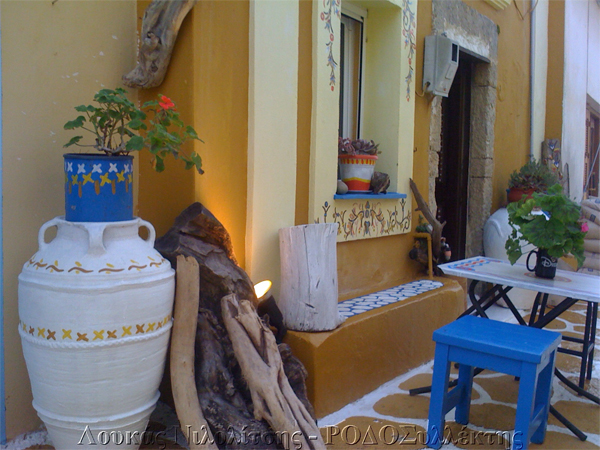 Those days, the village was in a unique creative disruption, and all residents, from 5 to 85 years, have provided and created in any way they could. Others drawing and painted walls, others were preparing food and was treating, others were baking traditional cookies and bread.
However, the great profit of the village did not stop those creative days. The venture was not a simple, ephemeral event slowly faded quickly. The impact was radical and continues even today, several months after influencing the life of the village. The attitude of people changed while boosted the confidence and optimism. The commercial and tourist traffic has increased and now many young think  to create their own businesses, but oriented in the art in popular culture (painting, crafts), tradition (oven and coffee),  and the environment. Also began to organize art festivals openly inviting artists and filmmakers.
The project got great publicity by the media. And so the residents were able to transform an idea that seemed initially "pipe dream" into a living reality.