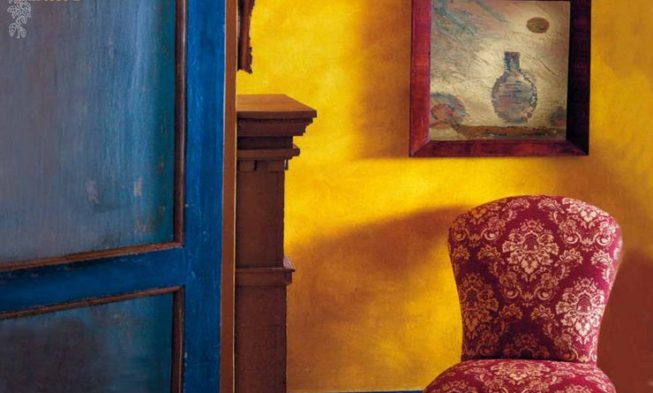 Wall paint technique ARTECO' 1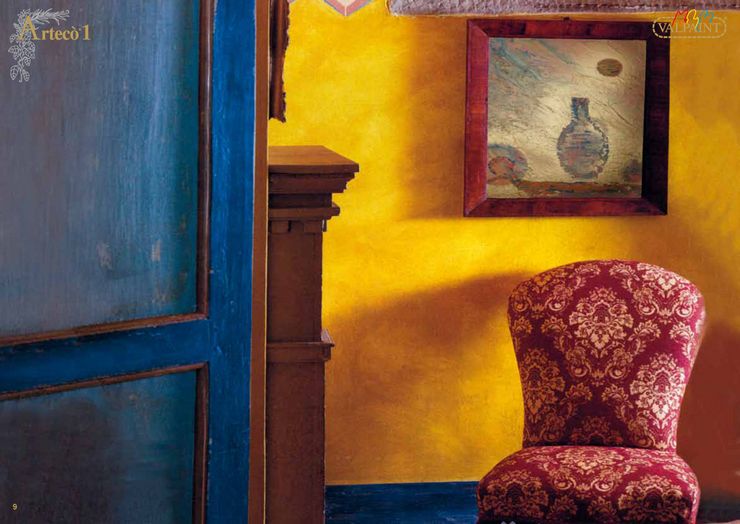 This is a water and lime-based paint for interior and outdor which can be used to create special antique effects, calling to mind the type of decoration seen in the country residences of Renaissance Italy. ARTECO' 1 can be applied to many types of surface, such as walls in cement, plaster, plaster of Paris, plasterboard, wood, iron, PVC and light alloys after a suitable treatment has been applied. Apply two coats of the special water-based white PRIMART 500 base product for Indoor surfaces and white PRIMER 400 for Outdoor surfaces. These special water-based primers make it possible for the person applying ARTECO' 1 to achieve the special, durable antique effects.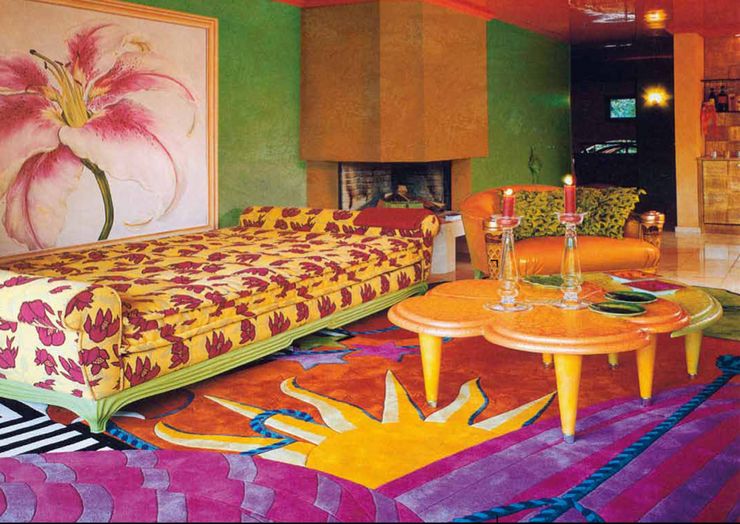 APPLICATION:
Apply a coat of ARTECO' 1 using the special brushes in KIT 39. The suggested technique involves using the brush in rotational movements, with uneven pressure, applying a tiny quantity of the product after dipping approximately 1 mm of the brush bristles into the paint. When the work is complete, the natural antique effect will be visible on the wall. Go over the corners and parts which are difficult to access using a smaller brush. Never use the brush with linear movements; use only rotational movements and do not concentrate too much on one area. It should be borne in mind that the colour tone may vary depending on the pressure exerted and the quantity of ARTECO' 1 used; this applies to all shades, which may change intensity and sometimes even colour tone. Waxing: after the product has dried completely, if there are any white marks due to excessive product application, ARTECO' 1 may be treated with FINISH V 16 applied using a brush, or with the water-based Cera Lucidante 420 (Rococò range) which gives the semi-gloss surface a higher degree of washability and makes it velvety to the touch. The Cera (wax) is applied using a spatula, leaving a very thin layer on the surface. After 3 – 4 hours at 20°C you will be left with a matt and velvety look; for a semi-gloss effect, exert pressure when passing a woollen cloth in rotational movements over the surface.
Watch the video