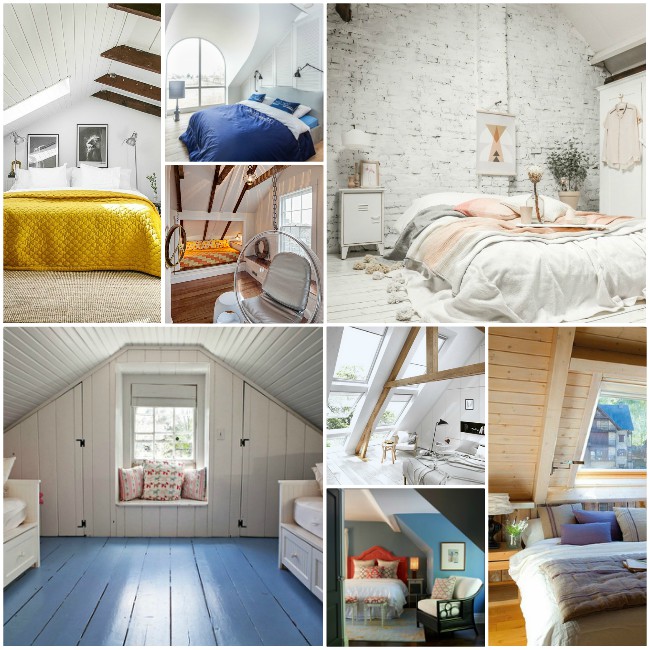 Best tips to create practical and pretty attics – inspiration in 65 photos
The biggest advantage of living in a big home is that you have a lot of extra room that you can use creatively. Attics are often neglected and underestimated as a living space. They are left un-equipped or unused items are stored there. But contemporary design is geared towards optimizing and fitting out every corner of the home. We want to satisfy not only practical goals. The decorative aspect is already inseparable from the function and one seeks to emphasize and to take advantage of the peculiarities of the space. In this article we want to show you how to decorate attics creatively and applying all known styles. Who can resist the romantic charm of well-appointed attics? Traditionally we imagine the attic as rooms with rustic or cottage decor and the image we have in his head is a room with dark wood covering and with one or a few single beds. But this idea has already remained in the past and today we can enjoy fantastic designs created with great style.
How can you build your attic and turn them into a nice and practical shelter? In first place, do not focus only on obvious projects – converting attics like a bedroom or a living room. Think of the other original variants such as a quiet reading corner and away from the life in the house, a private cinema, a gym, a small office, a library, a dressing room etc. Combine colors and textures well. The Scandinavian wood and white decor is very modern, rare and very good to illuminate a pretentious interior. If you do not intend to embark on major projects, do not forget wallpapers. They successfully replace the real textures created by authentic wood and bricks. It's hard to go wrong with a simple design, especially if space is limited. Do not overload the interior. A bed, a small wardrobe, ottomans and some decorative accessories will suffice for a practical and pretty layout. Bring the mural with the objects in the room or choose patterned cushions that are similar to the patterns of the wallpapers.
How to enjoy the attic without experiencing difficulties due to the low ceiling?
 Arrange sofas, chairs and beds in the lower parts of the room, use beds and low furniture, plan activities that do not require a upright position, install giant beanbags, use modular shelves and make furniture tailored. Use the deco side of the sloped ceiling. To emphasize the beauty of the building, you can decorate with hanging lamps and exposed beams, especially in the case where the ceiling is high. Create windows and skylights, make an original coating with wood or wall panels.

 

Do not forget the lighting. The lack of light is one of the biggest drawbacks of attic spaces. Think of floor lamps, wall sconces, pendant lights and LED lighting. You have to combine a few different light sources to avoid the effect of a dark interior. For attic spaces that are very small you must choose bright colors. White, pale yellow and light beige are perfect options for a small attic room. Avoid placing furniture in the middle of the room because it is the most spacious place from which you can enjoy